Wines of the Week
J. Lohr Estates of Monterey celebrates 25 years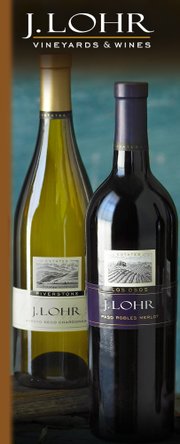 MONTEREY COUNTY, CALIFORNIA--J. Lohr Estates made the first vintage of its eponymous Roverstone Chardonnay 25 years ago. In honor of its first vintage, the winery has just released its 2011 J. Lohr Estates Riverstone Chardonnay ($14), which includes grapes from its original 1972 estate plantings as well as fruit from newer plantings. The result, from longtime Winemaker Jeff Meier, is a wine of stunning finesse and elegance. The wine has a softness that brings out its more textural elements, the result of meticulous winemaking and the unique cool climactic conditions that mark the Central Coast region. "We're not afraid of cool vintages, "Meier says. "Some of my favorite vintages are the coolest, but you have to understand them."
That is an understatement. Meier seems to not only understand the unique climate of the Central Coast, he's also devised a distinctive method of nurturing the gapes through the winemaking process to create a wine that has the full flavor of the fruit, clearly outlined with great definition, and rich, ripe flavors of apple, citrus and nectarine flavors, to create a wine with intense varietal character, yet with a significant palate weight and palate-cleansing acidity. This is the perfect wine to go with food, especially the types of light, summertime fare that emphasizes seafood dishes, such as scallops, bright pink salmon, shrimp and lobster and crisp, astringent salads, such as Caesar salad, Waldorf salad and that summertime classic, Cobb salad.
The wine has an attractive pale straw color and a slight perfume of roasted hazelnuts and a butterscotch bouquet all couched in a mouthful of citrus and fleshy yellow fruit flavor brought on lengthy barrel fermentation and sure lie (extended yeast contact) aging. The resulting layers of complexity reveal a yummy vanilla toastiness and silky texture that achieves just the right balance of fruit and acidity.
2011 J. Lohr Estates Wildflower Valdiguie, Monterey ($10) is one of the greatest values out there in terms of flavor benefit for an extremely great price! It's perhaps the most distinctive wine in the J. Lohr portfolio. As a conversation starter, ask the guests at your next garden party to blind taste it and guess how much it costs. Don't be surprised if they come in at numbers far beyond its actual price! Grown on J. Lohr's estate vineyars in the cold, windy Arroyo Seco (Spanish for "dry stream"), Valdiguie is a wine reminiscent of the "Crus" (first growths) of Beaujolais, only no where near the price. Red Winemaker Steve Peck did a mix of traditional red wine fermentation with whole cluster fermentation, to achieve a wine with a rare combination of softness and dark fruit notes. The wine is fresh and vibrant with the capability of being both a terrific standalone wine, to be drunk as an aperitif or a raw-room type wine appreciation exercise, or as a great accompaniment to a summertime meal of grilled meats or study, wood-planked or smoked fish. Pick any of your favorite strong cheeses, such as a hefty Roquefort or Blue Cheese or a hearty Stilton, and you'll see how this wine carries the day.