Still making a difference: Percy Conway
By Frank Vaisvilas | 6/26/2013, 10:02 p.m.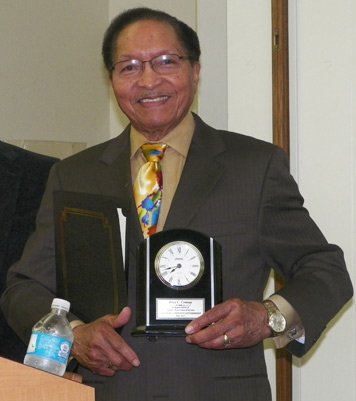 His legacy is not quite finished.
For the past 47 years, Percy Conway served Lockport Township and the area as everything from a trustee to a water commissioner. He also helped build Fairmont, a community sandwiched between Joliet and Lockport once considered a "no man's land."
Conway, 82, recently retired from the township and received recognition for his services from Lockport Township officials.
But his work is not yet completed. Conway wants official recognition of Fairmont so the area of about 2,000 residents is not simply carved up between Joliet and Lockport.
Conway's main reason for getting involved in local government initially was to improve the situation in Fairmont for his family and the other residents of the area. He moved to the area from Canton, Miss., in 1950 looking for work. There wasn't much opportunity for young African-American men in the South at that time so he moved to Fairmont and took a job at Mastic Tile in Joliet, only to be whisked off to fight in the Korean War after being drafted into the Army.
Conway came home from the service after receiving an honorable discharge in 1953 and returned to his job at Mastic Tile and shortly after met and married his wife, Armelia Parham.
After working at Mastic Tile Company for a few years he saw a need for jobs and services in the mixed area of unincorporated Lockport known as Fairmont and decided to become an entrepreneur. He opened Conway's Hi-Style Beauty Center and Barbershop, a Phillips 66 gas station, a BBQ restaurant, ice cream stand and a clothing boutique.
The area desperately needed job opportunities, Conway said. Roads barely existed or lay in disrepair and many areas had no water service.
"People had to walk to a community well for all their water needs," he said. "When it rained, you could smell the sewage.
"Many homes sat abandoned after most of the white residents left for jobs elsewhere," he added.
Conway said he always listened to his customers when they lamented about the poor conditions in the area. Rather than move to a more prosperous community, he decided to stay and make a difference.
"We needed more representation in government," Conway said. "I went to work to try to change the living conditions in this area."
After being elected to the Lockport Township Board of Trustees, he worked to secure a $1.3 million from the federal government to install sewer and water services.
When the community ran into financial troubles and could not repay the loan during the allotted 20 years, Conway worked with former U.S. Representatives Jack Davis and George Sangmeister to have the loan forgiven.
The sewer and water services opened the door to other improvements in the area, such as blacktop roads, Pace Bus shelters and weather warning sirens.
These improvements helped attract more small businesses, light industry and better housing and Fairmont was transformed into a diverse middle-class modern community. Conway said residents of the area are proud of what has been accomplished and they deserve to have the community's identity recognized at least by having "Fairmont" displayed on the community's water tower.
Conway regrets not seeing that come to fruition before retiring.
Still, he plans to remain active in the community he has called home for nearly 50 years. He serves on several boards in the area and nonprofit organizations, such as the Lockport Township High School Foundation, and also is involved in his church, Shiloh Baptist.
And, he said he'll continue to pop in at his barbershop from time to time and impart what wisdom he can upon the shop's patrons.