Former Gov. Roy Barnes defends civil rights leader accused of fraud and tax evasion
By D. Aileen Dodd Contributing Writer | 5/31/2013, 8:42 a.m.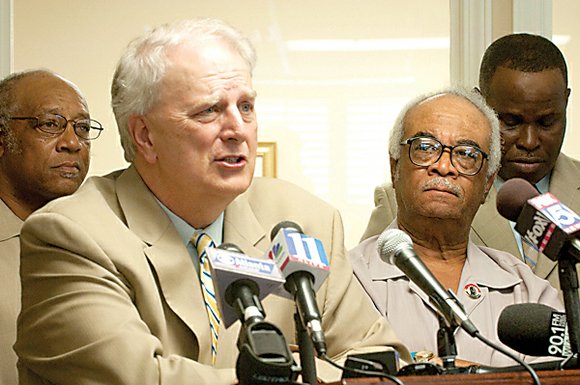 Former Gov. Roy Barnes stresses that state Rep. Tyrone Brooks, a civil rights hero, is no thief and has been wrongly accused of fraud and tax evasion in a federal case that should have never been filed.
Brooks has pleaded not guilty to federal charges stemming from allegations that he spent nearly $1 million in contributions donors made to Universal Humanities to fight illiteracy and the Georgia Association of Black Elected Officials. A federal indictment accuses Brooks of using donations to cover personal expenses from lawn care to credit card bills.
At a press conference held at his downtown Marietta law firm, Barnes called the charges against his client "outlandish" and gave an impassioned plea for Brooks citing his record of fighting for civil rights along side Martin Luther King Jr. and Joseph Lowery. Barnes said that Brooks often worked full-time for grassroots organizations without drawing a salary.
"His life has been about serving, not about amassing great wealth," Barnes said. "If his life has been about wealth, he could afford to pay me."
Brooks stood quietly, holding his grandson, as Barnes discussed the case. The civil rights leader was flanked by more than a dozen supporters including clergy and community activists.
The charges against Brooks have not slowed him down. Brooks said he had plans to protest outside of a grocery store that was serving spoiled food to customers in a mostly minority community.
"I am going to a picket line," Brooks said.
Brooks has been a civil rights activist since the 1960s. He was elected to the state Legislature in 1980 as the representative from Fulton and Douglas counties. He also was named president of the Georgia Association of Black Elected Officials, one of the group's he stands accused of stealing from.
The federal indictment against him examines a 20-year period alleging that Brooks spent about $40,000 to $50,000-a-year on himself.
"What he should have done was set up a salary for his full-time work, a very modest salary," Barnes said. "If he had done that we would not be here today. Instead he was paid an amount approximating his expenses for his work and somehow that is a crime?"
If anything at all, Barnes said, Brooks may be guilty of, "bad book keeping" on how he tracked his reimbursements. Barnes added that the issue could be handled in a civil court, not a criminal one.
"We have all seen politicians who have manipulated the system for their personal benefit, but that is apparently not a crime of substance, while a civil rights protester who is given money to pay expenses when he works full-time in the struggle is a crime," said Barnes. "Whether a person is guilty of a crime or not should not depend on who hires the best accountant or who holds the highest office."
FBI Special Agent in Charge, Mark F. Giuliano has said that the probe into Brooks has merit. He maintained in a statement earlier: "Mr. Brooks exploited two charitable organizations for his own personal financial gain which came at the expense of the intended beneficiaries of the charitable donations. IRS Criminal Investigation is committed to investigating individuals who use charitable organizations for their personal gain.