Feds, Joliet reach settlement over Evergreen Terrace
Condemnation suit involving owners, tenants of housing complex continues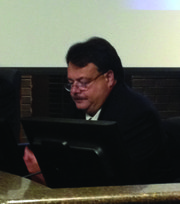 The federal government has reached a settlement with the city of Joliet in a condemnation lawsuit involving the Evergreen Terrace low-income housing complex, Jeff Plyman, the city's general counsel said Tuesday.
"I'm very pleased to report that the city and the federal government have negotiated a settlement of the Evergreen Terrace litigation," Plyman said, emphasizing that the settlement does not mean an end to the city's eminent domain case of the complex at 350 N. Broadway.
The city council voted unanimously to accept the settlement agreement.
It is "a partial settlement in that it involves only the city and the United States government. It does not, at this time involve ownership or any of the tenants who have participated in the lawsuit," Plyman said.
Under the settlement agreement, the city will receive about $4 million in Community Development Block Grant funding, which had previously been suspended by the U.S. Department of Housing and Urban Development.
For more than 30 years, Joliet received federal funding under its CDBG program, but that funding was interrupted two years ago by HUD because of the litigation between the two parties. HUD, according to Plyman, has now agreed to reinstate all CDBG and Home Grant funding to Joliet retroactive to 2011, which amounts to the estimated $4 million. Also, going forward the city will now receive $1.2 million annually in CDBG funding, according to the terms of the settlement.
In 2011, prior to the start of the condemnation trial, the federal government filed a lawsuit against Joliet, claiming that the condemnation lawsuit of Evergreen Terrace violated the Fair Housing Act and the city's use of CDBG funding in connection with the Evergreen Terrace litigation violated CDBG laws, Plyman said.
Those matters would be dismissed with the settlement and HUD would dismiss all administrative complaints against Joliet.
Rex Robinson can be reached at rex@thetimesweekly.com.