Visually stunning Miss Saigon at Paramount Theatre
Jayme Cain | 11/6/2013, 6:54 p.m.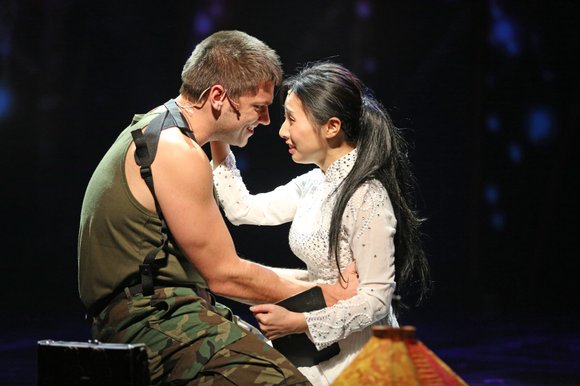 Paramount Aurora's re-imagined production of Miss Saigon gives a fresh new and dynamic face to the award-winning show of the 1980s. Set in Vietnam during the fall of Saigon in 1975, Miss Saigon tells the powerful story of an American Soldier Chris, sung powerfully by returning Aurora theatre favorite Brandon Moorhead, and Kim, sung passionately by South Korean native Shawna Kaeji Shin, in her Paramount debut, who fall in love and have a child during the wars most tumultuous final days. Orchestrating it all, is the magnetic character, Engineer, played in a scene-stealing performance by Broadway veteran and multiple Chicago theatre Jeff Award winner (Victory Gardens, Drury Lane, Chicago Shakespeare Theatre, among many others) Joseph Anthony Foronda. The musical is loosely based on Giacomo Puccini's epic opera "Madame Butterfly" with original music by Claude-Michel Schonberg (no relation to the Austrian composer Arnold Schoenberg, of a similar name), who also brought to the Broadway theatre "Les Miserables." The soaring melodies and distinctly Asian-referenced musical harmonies often recall Puccini's dramatic score. The arching melodies and romantic import also recall Bernstein's "West Side Story," Andrew Lloyd Weber's "Phantom," and the electrifying soliloquy by Engineer in the final act, which echoes Joel Grey's award-winning turn in "Cabaret."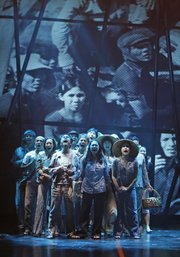 Credit should be given to the Paramount's production team for mounting a visually stunning set, complete with original backdrops, costumes and special sound and lighting effects that give the show an urgency lacking in many touring productions. Paramount's Artistic Director Jim Corti, who also directs the musical worked hand-in-hand with Chicago set designer Linda Buchanan to give the show a fresh and invigorated look. Gone is the eponymous helicopter that came crashing to the stage floor from the rafters in the show's original production. Instead, the producers use dramatic lighting and sound effects and an acrobatic performance by the singer/actors, who climb precarious scaffolding in a desperate effort to be airlifted to safety. It is a charged moment that elicits the feeling of fear and danger through the imaginative use of illusion. You feel the sensation of a helicopter with flashing strobe lights, sound effects and smoke that practically surrounds the audience in an immersive experience, without seeing an actual helicopter. In many ways, it is much more emotionally powerful than seeing the real thing.
Music Director Shawn Stengel and Choreographer Jeff Hancock do a brilliant job of putting the largely pan-Asian cast through their paces. At no time does the production seem strained. Instead, it resonates with the ring of truth and authenticity that brings one of the sorriest chapters in American history into central focus with a message of hope that perhaps lessons will be learned from the past in order to offer hope for the future. This Miss Saigon is a must-see and a landmark production sure to put Aurora on the map as a theatre destination. The show runs through November 24 at Paramount Theatre, in Aurora, IL.