SUV smashes through front window of Joliet auto insurance agency
By Rex Robinson | 11/7/2013, 4:34 p.m.
Arriving late to work Thursday morning in all likelihood turned out to be a lifesaving move for Eduardo Sosa of Joliet.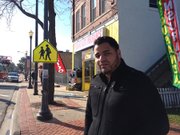 Had Sosa made it to Paisano Auto Insurance, the agency he owns at 510 N. Chicago Street, on time at 9 a.m. he very likely could have been crushed by a sport utility vehicle that smashed through the front window after being involved in a crash with another vehicle.
The Nissan Xterra, driven by a man in his 40s, pulled out in front of a black Toyota Scion at the intersection of Ohio and Chicago streets and smashed through the front window of the insurance agency.
"I'm so lucky to be alive. I would have been sitting right there," Sosa said.
No one was injured in the crash, according to police. When Joliet Fire Department Lt. Mike Nurczyk came up on the scene, the driver of the Xterra had already crawled out the back window.
Joliet police and firefighters evacuated the building, including the apartment units on the second floor as a precaution. Nurczyk said the SUV broke through the floor, and right underneath that flooring were gas lines.
"The floor in there was unstable," Nurczyk said. "If the vehicle would have fell through the floor and knocked out one of those (gas) meters, we would have had a lot of gas everywhere."
Both Nicor and ComEd were coming out to shut off both the gas and electricity, Nurczyk said.
The Xterra was making a left turn from westbound Ohio Street onto southbound Chicago Street and pulled out in front of the Toyota Scion, which was driven by a man in his 20s, according to Grutzius. The man's mother was a passenger in the car.
Ironically enough, the driver of the Xterra works as an agent for a State Farm Insurance, according to Joliet Police Sgt. Tom Grutzius.
No one had yet been ticketed as a result of the crash and Grutzius said it was "still under investigation."
He said it was fortunate that no one involved in the crash was injured and no one was inside the business when the car smashed through the front window.
Sosa said had just moved his business to the Chicago Street storefront a couple of months ago from Collins Street.
Rendels Towing had to use its new 60-ton Rotator truck to lift the SUV off the floor and move it out from inside the business. "It's basically a crane on wheels," towing company representative Mike Polcyn said.