Will County, union negotiations fail once again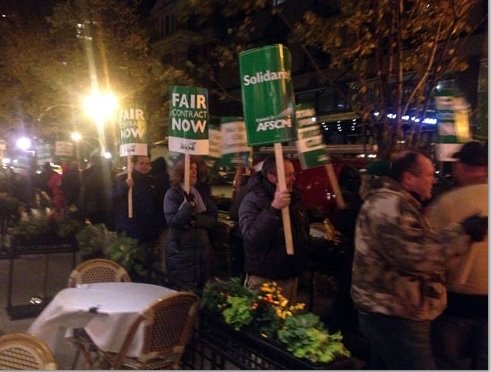 Negotiations between Will County and union leaders from AFSCME Local 1028 held both Wednesday and Thursday resulted in no agreement and the union is now threatening to strike.
Will County Executive Larry Walsh said he and the Will County Board continued their efforts late into the second straight night hoping to avoid a strike with AFSCME Local 1028. A work stoppage for numerous county employees could hinder critical county services for Will County residents. The looming strike is the result of Local 1028's action to terminate its contract with the county after the union's unwillingness to compromise on increased health care contributions and their wage demands.
"I have said throughout these negotiations that a strike is not good for anyone; no one wins with a strike," Walsh said. "I was very disappointed to learn that AFSCME employees who claim to want to avoid a strike wore red stickers throughout all of our recent negotiation sessions proudly proclaiming 'Ready to Strike.' "
"Although these employees are legally within their right to strike, they seem to embrace the idea of a strike rather work out a settlement at the table which is truly unfortunate for all Will County residents who want to see services continue and workers working."
Meanwhile, union leaders said the county board has "refused yet again to soften their demand to double what county employees pay for health care or offer fair wage increases after employees went four years with no cost of living raise.
County management's failure to compromise forced the end of union contract negotiations and will trigger a strike set to begin Monday.
County employees voted to authorize a strike more than a month ago, but their union,
AFSCME, made every effort to seek a compromise, even delaying a planned work stoppage to return to negotiations this week.
"County workers went above and beyond at the bargaining table, just like we do in serving our community every day," AFSCME Local 1028 president Dave Delrose said. "For the past three weeks, management has refused to meet us halfway, demanding employees pay unaffordable costs for health insurance that would more than negate their paltry offer on pay."
Walsh and the county's negotiation team have been meeting with AFSCME Local 1028 for more than 15 months, the last 5 months with the aid of a federal mediator, and the main sticking point remains increased health care costs and wage increases. The county returned to the bargaining table, at the request of the federal mediator, in a good faith effort to avoid a strike.
"The Board has worked closely with the Executive's office and our negotiators in an attempt to reach a reasonable and fair contract for our employees," said Will County Board Speaker Herbert Brooks, Jr. (D-Joliet).

"Through it all, we must balance the many priorities for the county, whether it is employee wages, health care, or the county's many needed capital projects. Unfortunately, resolution has not been reached yet and time is running out before AFSCME Local 1028 strikes."