Rosemary Orange Roasted Turkey Breast
11/20/2013, 3:58 p.m.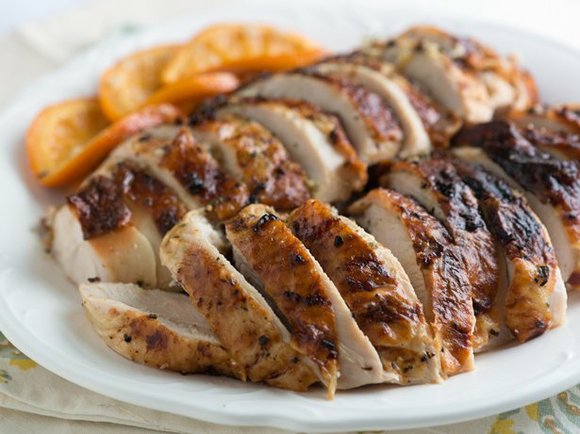 6 Servings
Ingredients
1 bone-in whole turkey breast (5 to 7 lb), thawed if frozen
3 cloves garlic, finely chopped
2 tablespoons chopped fresh rosemary
2 teaspoons Dijon mustard
2 teaspoons salt
½ teaspoon pepper
6 tablespoons orange juice
2 tablespoons olive oil
½ cup dry white wine
¼ cup lemon juice
¼ cup chicken broth
1 orange, cut into thin slices
Directions
Heat oven to 325°F. Place turkey breast, skin side up, in shallow roasting pan.

In small bowl, mix garlic, rosemary, mustard, salt, pepper, 2 tablespoons of the orange juice and the oil.

Loosen turkey skin, using fingers or spoon; rub garlic mixture under and over turkey skin. Insert ovenproof meat thermometer so tip is in thickest part of breast and does not touch bone.

Pour wine, lemon juice, broth and remaining 1/4 cup orange juice into roasting pan.

Roast uncovered 2 hours to 2 hours 30 minutes or until thermometer reads at least 165°F. Place turkey on warm platter; cover with foil. Let stand 15 minutes before carving. Spoon pan juices over turkey; garnish with orange slices.