Lengthy negotiation session between union and Will County goes nowhere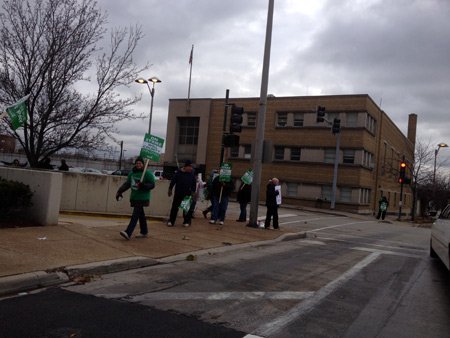 Frustrations reached a high point Monday on the part of Will County leaders as more than six hours of negotiations with members of American Federation of State, County and Municipal Employees Local 1028 failed to reach a compromise and end a more than week-long strike.

The problem, according to Will County Executive Larry Walsh, is members of AFSCME Local 1028 did not come prepared to the negotiating table.
More than six hours of negotiations Monday failed to produce a contract or any meaningful movement after more than a week of work stoppage by county union workers, according to Walsh.
"I am truly disappointed that the union was not prepared to make a formal counter proposal when we began today," Walsh said Monday night. "After a week of picketing county facilities, and over a week since the last negotiations session broke off, the Union was not able to give us a meaningful counter offer and move us toward a resolution."
Meanwhile, AFSCME Local 1028 president Dave Delrose said the union "came ready to bargain and work hard toward a compromise.
Inexplicably, the county failed to bring its consultants on health care issues," Delrose added. "As a result, county officials said they were unable to fully respond to AFSCME's proposals on health premiums.
However, Delrose said there was some movement by both parties. Give-and-take, he added, is what successful bargaining is all about.
"At the end of the day, management indicated it would work to reach its health advisers tomorrow," he said.
Walsh and the county's negotiation team have been meeting with AFSCME Local 1028 for more than 15 months, the last five months with the aid of a federal mediator, and the main sticking point remains increased health care costs and wage increases. Both sides have continued to return to the bargaining table, at the request of a federal mediator.

"After listening to all the speeches at last week's County Board meeting, I really was optimistic that AFSCME would come in prepared to negotiate today," Walsh said. "However, when we first met this morning the union requested information that it could have requested in our last bargaining session or, at a minimum, last week. The union indicated that without the information it first requested this morning, it was not prepared to give the County a counter proposal. Because of the union's lack of preparation, the parties were unable to move forward constructively at today's session. This type of conduct has been a recurring problem and has led to repeated delays throughout the many months of negotiations. This has to stop if we want to reach an agreement."
Walsh's frustrations mounted after he said he found strikers were distributing flyers at county facilities that "were filled with factual inaccuracies and misrepresentations of what has been offered at the table.

"I would hope that the Union would put more energy into negotiations and less into their propaganda," Walsh said. "If the union truly wants to get employees back to work before the holidays, they need to stop the posturing in negotiations for their press releases and flyers. I would hope the Union gets serious about reaching a settlement."
That, according to Delrose, was mischaracterization on the part of Walsh.
"Contrary to those false claims, AFSCME made every effort to move discussions forward today and has offered to meet again Wednesday," Delrose said.
"Progress may be slow and difficult, but the situation isn't helped by county officials hurling insults instead of working to reach an agreement that restores county services as soon as possible."
Walsh, meanwhile, thanked the many County employees who have continued to work throughout strike and said he has confidence in all of the elected officials, department heads, and other county staff who continue to provide services to Will County residents during the strike.