Reaching out to those in need
Caring organizations giving something extra for the holiday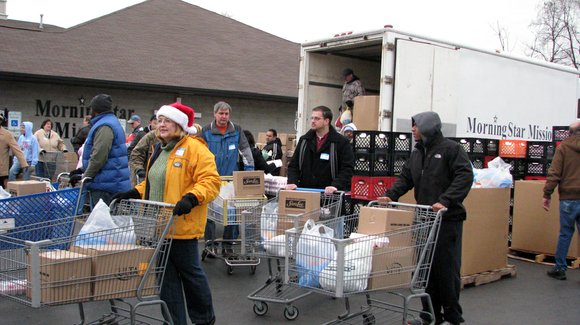 As families gather around the table to enjoy the Thanksgiving feast, many others are struggling with financial hardships and some have neither a home nor a family to share the holiday with.
Fortunately, there are organizations with safety nets at the ready to catch those who have fallen through a crack. From the Morning Star Mission to other smaller faith-based groups and the various school districts and municipalities, non-profit organizations and taxing bodies alike from throughout the region provide everything from shelter to food baskets and gifts of clothing and toys during the holiday season. Some provide food, clothing and even shelter, not only during the holidays, but throughout the year.
Massive volunteer effort
Volunteers from throughout the area earlier this week and last week scrambled to get food baskets ready to ensure everyone could enjoy a Thanksgiving dinner.
"We are so thankful for the community support. Our programs couldn't run without them," said Chrissy Brown, director of development for the Joliet-based MorningStar Mission.
MorningStar doled out food baskets with turkeys and all the fixin's to families facing financial struggles from many different communities, including Joliet, New Lenox, Plainfield, Shorewood, Romeoville, Bolingbrook, Lockport, Crest Hill and others, Brown said.
"We want to make sure people can have a wonderful Thanksgiving in their homes," she said.
The baskets will be enough to serve 1,800 people Thanksgiving dinner, according to Brown.
"One trend we've seen this year is the number of people within each family. We had 20 families with 13 people or more living in the home," Brown said.
It takes the work of about 800 volunteers to get meals to all the families and individuals for Thanksgiving, she said. The food items really start pouring in during the final days leading up to Thanksgiving. The Joliet Fire Department on Monday, for example, dropped off enough food to fill up more than a few pallets. The food was collected as part of a combined food drive by the fire department and the office of state Rep. Natalie Manley (D-Joliet). From churches and corporations to area school districts, many organizations donate food to the pantry to help with the massive effort.
"We get a ton of community support from all over Joliet and the surrounding communities," Brown said.
Meals, shelter and more…
The MorningStar Mission, 350 E. Washington St., also is expected to provide Thanksgiving dinners to about 200 homeless individuals at its Café as well as to those who stay at the shelter. The mission has a men's shelter, a sober living program and a Women and Family Center with 72 beds.
Barbara Collins, director of the center, said there are currently about 46 families living at the center.
"I think we see more families around Thanksgiving and Christmas, especially when it gets colder," Collins said.
Mary White, Drop-in Center Coordinator at the Mission, said despite the struggles she sees people going through on a regular basis at MorningStar, people still have hope and many rise above their troubles and find ways to be happy during the holidays.