Animal hospital raises money for Amierca's Vet Dogs
11/28/2013, 9:40 p.m.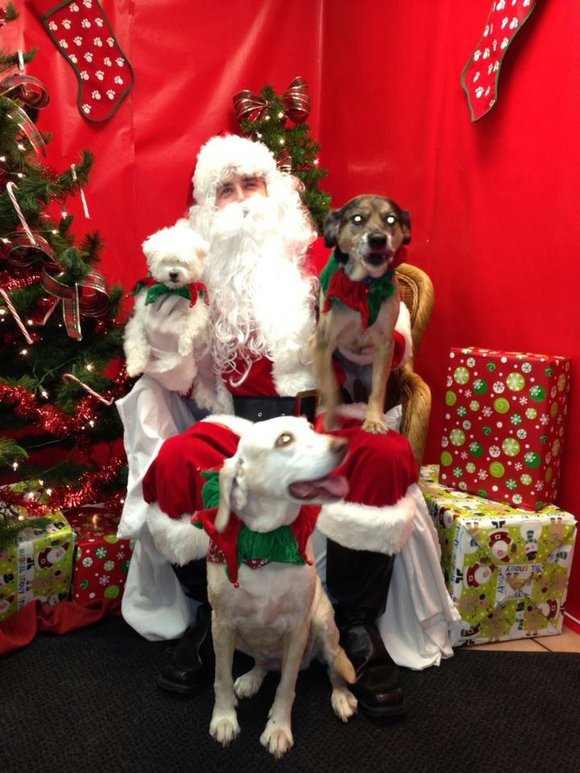 Every year Crest Hill Animal Hospital, 1807 Plainfield Road, in Crest Hill, puts together its annual "Santa Paws" Event. This year's event will be held at Crest Hill Animal Hospital from noon until 3 p.m. on December 15. Everyone in the community is invited to bring their pets and take pictures with Santa Clause. According to hospital manager Matt Pritz, this event is going to be bigger than ever, with local pet vendors, raffles, prizes and more family fun activities.
All proceeds from this year's event will benefit America's VetDogs – The Veteran's K-9 Corps, a 501(c)(3) non-profit organization founded by the accredited Guide Dog Foundation for the Blind and serves the needs of disabled veterans and active duty personnel.
"We saw this beloved Santa Paws event as a great opportunity to highlight this amazing organization and help them in their mission," Pritz said.
In 2003, the Guide Dog Foundation for the Blind (www.guidedog.org) recognized the need for an overall assistance dog program for veterans that would incorporate guide dogs, service dogs, and state-of-the-art mobility devices. America's VetDogs was created and incorporated to give veterans easy access to the best services possible to improve their lives.
VetDogs provide guide dogs for veterans who are blind; service dogs for those with other physical or emotional disabilities; physical and occupational therapy dogs to work with amputees in military and VA hospitals; and combat stress control dogs to be deployed in theater.
All of America's VetDogs services are provided at no cost to veterans, and their funding comes from the generous contributions of individuals, corporations, foundations, businesses, service and fraternal clubs and events like Crest Hill Animal Hospital's "Santa Paws."
For a veteran with a serious limb injury, amputation, or traumatic brain injury, a service dog can provide stability support climbing up and down stairs or getting in and out of a chair, and can be trained to fetch and retrieve specific items, such as medication, a wallet or a phone. For veterans with seizure disorder, dogs can be trained to alert for seizure response. Dogs also offer emotional support for veterans suffering from post-traumatic stress disorder.
VetDogs has set the standard by which the military and the VA measure assistance dog schools. They continually strive to increase the options and services for veterans to ensure that they receive all the tools they need to once again be self-reliant.
America's VetDogs has placed physical and occupational therapy dogs at Walter Reed Army Medical Center (now Walter Reed Military Medical Center in Bethseda). Through retrieval, bracing, and innovative tug-of-war exercises, these dogs work with soldiers as they adapt and work with their new prosthetic limbs and therapy dogs make the rounds with wounded soldiers, offering emotional support and comfort.
America's VetDogs is a way of honoring the sacrifice made by our men and women in uniform, and their dedication to America's veterans is stronger today than ever before. America's VetDogs does their part to see that a guide or service dog will help a veteran live independently again.
"Assisting VetDogs in their efforts starts with us, we invite everyone to help join our efforts and visit us on December 15th," Pritz said.
About America's VetDogs
The Veteran's K-9 Corps America's VetDogs provides guide and service dogs to disabled veterans and active duty personnel; physical and occupational therapy dogs for VA and military hospitals; and combat stress control dogs to be deployed overseas. It costs more than $50,000 to breed, train and place one assistance dog with a veteran, but there is never a cost to the veteran. To learn more about America's VetDogs, visit www.vetdogs.org.