WINE OF THE WEEK: Helfrich Riesling 2012 $14.99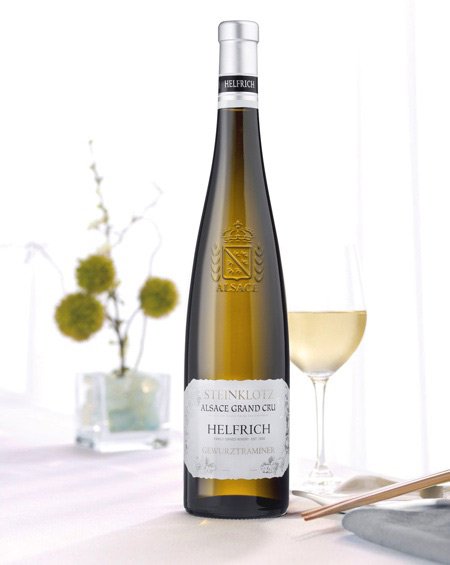 I defy anyone to find a better Riesling for under $20 than Helfrich Riesling 2012 ($14.99). This is an astounding wine, that lives up to its heralding as a "noble variety." The finish is long, crisp and well structured, with complex citrus fruit flavors of mandarin orange, key lime and Meyer Lemon, a veritable citrus Yin/Yang on the tongue with the appropriate hints of dry, chalky minerals and subtle gravitas in the overall mouth feel. This is a wine that lingers long on the nose and even longer on the palate. It is a perfect accompaniment to Oyster stew, Lobster Bisque, smoked salmon, ceviche or sushi and most certainly the full assemblage of Thai foods and even Indonesian Rijstafel (a spiced "rice table" of many varied meat and vegetarian dishes served in small plates).
Helfrich wines come from Alsace in Northern France and it is one of only fifty-one vineyards that have the Grand Cru designation. The vineyard dates back to the reign of King Childebert 11 (589AD), and the Helfrich family has now been involved for six generations. Despite that history, the brand is hardly known in the USA, which makes its current entry into the US market that much more exciting! Although not available everywhere, they will be in some of the finest wine shops. They will certainly be on the wine lists of many of your favorite restaurants. Whatever the case, these wines are well worth tracking down and are perfect for the coming season.
The wine comes from a steep hillside in an area of northeastern France isolated from the rest of the country by the Vosges Mountains and the Rhine. Historically, the area has been a cultural ping pong ball between Germany and France and now is firmly ensconced as a part of France, but with nearly half of its residents speaking their own Alsatian language. The vineyards are located on a steep hillside with soft, turned earth covering a layer of calcarous bedrock, which gives the wine a flinty backbone, while allowing the grapes to develop an austere quality of delicate white flowers and astringent citrus notes. The minerals shine through with the 'copper toned' burnished taste of mandarin orange. There's limited availability, but its in your most discriminating wine shops and restaurants right now. I suggest you order it post haste!