Lockport Ends Dubious Streak With Win Over Stagg
10/2/2013, 11:18 a.m.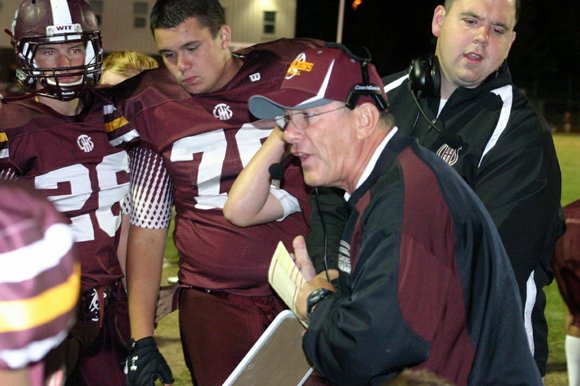 Coming into last Friday night's home game against conference newcomer Stagg, the Porters were on a nine game losing streak dating back to week four of last season posting only one victory in their last thirteen attempts and for much of the game, it appeared Lockport's dubious streak would continue.
Stagg quarterback Adam Pilota torched the Porter secondary twice in the first half on scoring tosses of 44 yards to Tyler Mackessy and then scrambled to find Dennis Egan on a nice 71 yard completion that resulted in a 14-3 lead late in the 2nd quarter that stayed that way into the half.
Lockport though wouldn't go away in the second half. The Porters drew within four, 14-10 midway through the opening quarter after taking advantage of a Stagg turnover. But Stagg's defense came up huge in late in the third quarter returning a blocked punt for a 21-10 lead. Then Lockport turned it on.
In the fourth quarter, the Porters drew within a field goal with just over ten minutes left to play 21-18 after Porter coach Don McKillip opted to go for two on the conversion. After another big stop by the Lockport defense, the Porters got the ball back and were staring at a first and twenty after a holding penalty backed them up 90 yards from the game winner with 3:02 left.
Lockport quarterback Ryan Dalton completed three passes for 38 yards and used his legs to rack up 52 yards that set up Tyler Johnsons 6-yard game winning score with :38 seconds left.
Stagg had an opportunity with a final Pilota scramble and throw to the end zone but the ball was dropped and the Porter fans rushed the field celebrating for the first time in more than a year.
Lockport improves their record to 1-4 overall, 1-2 in conference while Stagg dropped to 2-3 on the year, 0-3 in the Southwest Suburban Blue. Next up for the Porters is a road trip to No. 2 Bolingbrook Friday night, game time 7pm.
See video highlights and post game reaction only at www.thetimesweekly.com