Hundreds gather for Sam's Club opening in Romeoville
By Rex Robinson | 10/3/2013, 5:01 p.m.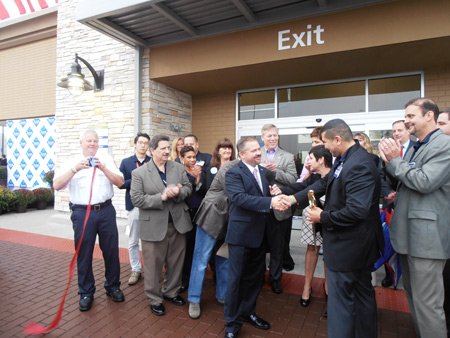 With a huge American flag flying overhead strung from two cranes, more than 200 people gathered just outside the new Sam's Club in Romeoville Thursday morning for a grand opening ceremony.
As celebrations for the opening of the new Sam's Club at 460 Weber Road, got underway a light rain began to fall, but it couldn't damper the excitement from local officials and Sam's Club associates.
"Welcome to Romeoville. It's a very exciting day for our community," Romeoville Mayor John Noak said as he welcomed the new Sam's Club to the village. "It's another milestone as we continue to develop our community… and we're so excited to have Sam's Club open here in our community, bringing jobs, new revenue and a lot of excitement along with it."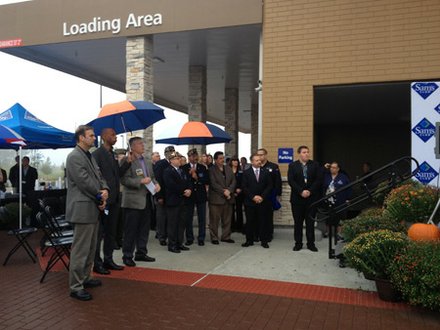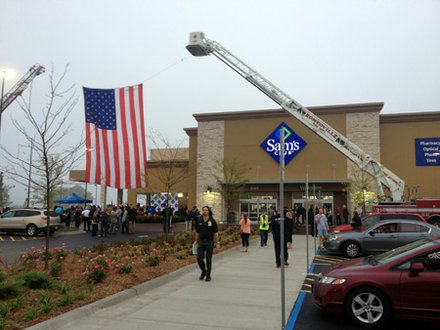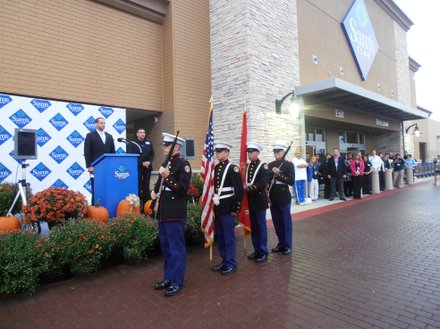 The Romeoville location is the 21st Sam's Club to open in the Chicago area. More than 150 jobs were created with the opening of the new club, which is right next door to a Wal-Mart, another Walton family store. Like its other locations, the Romeoville Sam's Club features everything from soup to nuts, apparel items to big screen TVs. The club measures about 136,000 square feet of space.
"You can fit the entire Romeoville High School football field inside this building and still have more room," the new club's manager Rico Cortez said.
Sam's Club President and CEO Rosalind Brewer also attended the grand opening ceremony.
"We're very excited to be here in Romeoville," Brewer said.
Brewer helped dole out a number of checks to local charities. "In celebration of our opening, we are granting more than $50,000 to local organizations, while supporting more deserving groups through sponsorships," Brewer said. "These contributions total more than $65,000 in grants and sponsorships locally."
The Romeoville Police Department and Romeoville Fire Department, ChildServe and the Pajama Program of Illinois all received a $2,500 donation from the Sam's Club, while other charities received grants totaling $1,000 to $2,000.
The Ray Holloway House, a group founded by local American Legion members that helps homeless military veterans, received a $20,000 donation.
"Sam's Club is grateful for our veterans' service and we're honored to do what we can to help this great program," Brewer said.
A number of local businesses were on hand at the grand opening to showcase products made locally. These included Zettie's Confections, Nazareth Sweets, Greenridge Farm and Desiree Morgan Company, a jewelry manufacturer.
After Noak, Cortez, Brewer and Romeoville Chamber of Commerce gathered to cut the ribbon on the new club, area residents and officials shuffled inside the store, with Romeoville High School cheerleaders cheering them on as they walked by with their carts.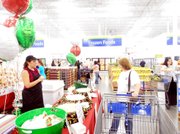 Inside, guests were treated to free samples of food, flu shots and entertainment. Chicago Bears celebrities were on hand throughout the day. Keeping with the upcoming Halloween holiday theme, guests were also treated to the works of world famous pumpkin carver Tom Nardone, of Detroit, Mich.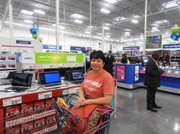 Catherine Kasperski, of Romeoville, was excited about the new club opening. "This is great," Kasperski said. "It's about time we got a big store. Now I don't have to drive all the way to Joliet."