Turkey-Green Chile Enchiladas
10/8/2013, 7:34 p.m.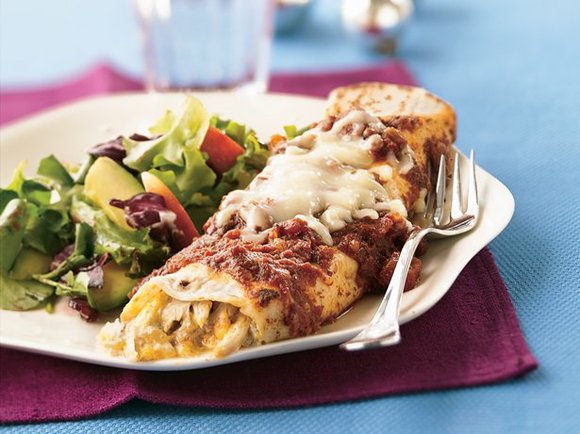 Ingredients
Sauce
2 tablespoons vegetable oil
1 large onion, finely chopped (1 cup)
2 cloves garlic, finely chopped
1 cup chicken broth (from 32-oz carton)
2 tablespoons semisweet chocolate chips
1 tablespoon ground ancho chiles
1 teaspoon ground cumin
½ teaspoon salt
1 can (28 oz) fire roasted crushed tomatoes, undrained
Enchiladas
2 cups shredded cooked turkey
1 cup sour cream
1 ½ cups shredded Cheddar cheese (6 oz)
2 cans (4.5 oz each) chopped green chiles, undrained
1 package (11.5 oz) flour tortillas (8-inch; 8 tortillas)
1 cup shredded pepper Jack cheese (4 oz)
Directions

In 12-inch skillet, heat oil over medium-high heat. Add onion and garlic; cook about 1 minute, stirring frequently, until onion is tender. Stir in remaining sauce ingredients. Heat to boiling. Reduce heat to low; cook uncovered 15 minutes, stirring occasionally.

In medium bowl, mix all enchilada ingredients except tortillas and pepper Jack cheese. Spread about 1/2 cup turkey mixture over each tortilla; top with 2 tablespoons sauce. Roll up tortillas; arrange seam sides down in baking dish. Pour remaining sauce over tortillas. Top with pepper Jack cheese.

Spray sheet of foil with cooking spray; place sprayed side down over baking dish. Bake 30 to 45 minutes or until thoroughly heated.