2013 Mazda CX-9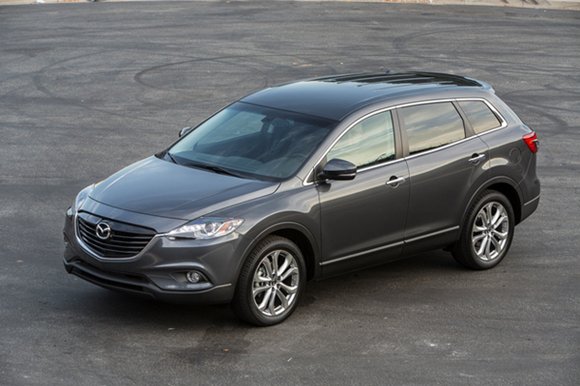 After a week-long test drive of a 2013 Mazda CX-9, a seven passenger crossover utility, it is easy to understand why this three-rowed vehicle became so popular so quickly.
Launched in 2007, it is the largest Mazda in the lineup. For 2013, the CX-9 was more sophisticated. Its 3.7-liter V6 made 273 horsepower and 270 foot-pounds of torque. Mated to a six-speed automatic transmission with manual shift capability, the CX-9 was smooth and assertive.
On a quick turnaround trip to Chicago, it cruised effortlessly at almost 80 mph. It stayed centered, it crept up to 90 mph with just a nudge on the gas pedal and it still had some oomph at highway speeds when quick passing was required.
About the only thing that was lacking was a change lane signal. That is sorely needed on an excursion down any Interstate. Hitting the turn signal to change lanes and then turning it off once that's done is irritating, if you're used to lane change signals.
Still, it was a pleasant four-hour drive. Gas mileage wasn't great but it wasn't bad either for a 4,500 lb. utility vehicle. The CX-9 had an EPA rating of 18 mpg in the city and 22 on the highway.
After burning through almost three fourths of the 20.1 gallon capacity fuel tank, a fill-up cost $54.02 for 13.5 gallons of gasoline at $3.99.9 a gallon in Indiana. Petrol was thirty to seventy-cents less there than in Chicago. In other words, if you do a lot of driving keeping gasoline in the CX-9 could cost about 100 bucks per week, or more.
But Mazda's CX-9 is not alone; escalating gasoline prices put a damper on the sales of most three-row utility vehicles as well as pickup trucks. Nonetheless, with each generation these vehicles get more sophisticated and more fuel efficient and the CX-9 is no exception.
For 2013, Mazda designers fine-tuned the CX-9's headlights, grille, fog lights and bumper. In the rear, they redesigned the bumper, the taillights and they rounded the dual exhaust pipes.
The vehicle used for our test was the CX-9 Grand Touring All-Wheel-Drive, the top of the line model. It had tilt in reverse side mirrors, back up sensors, a rearview camera and Xenon headlights. It also had a tech optional equipment package that included a premium audio system, satellite radio, a touch-screen navigation system with a three-dimensional map and a moonroof.
It was easy to forget that the CX-9 was a utility vehicle. It was quiet, the MacPherson strut front suspension combined with the multi-link rear suspension made for a car-like ride, steering was feathery and there was not a lot of body sway.
However, it was a three-row utility vehicle and it is easy to get into trouble with quick lane changes. You can look right over the hood of a car when checking to see if anyone is alongside you before changing lanes. The CX-9's blind spot alert system was used a lot and it was very much appreciated.
Like all three-rowed utility vehicles, getting in the third row was not a snap. But there was plenty of head and hip room. And legroom depended on where the second row passengers adjusted their 40-60 split seats.
The only other quibble was the Bluetooth system. It would not connect to Pandora on a smartphone that had been connected. That should have been intuitive but it wasn't. But it did connect to the phone's music box with no problem.
Mazda's CX-9 is a viable entry in the seven-passenger utility vehicle segment. The base price of the test vehicle was $36,375; options and freight charges brought the total to $39,605.
Frank S. Washington is editor of AboutThatCar.com.