Plainfield North Stuns Romeoville 31-19
10/9/2013, 2:18 p.m.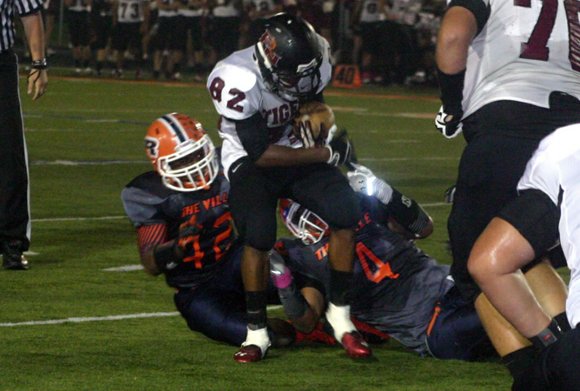 The Plainfield North Tigers (3-3) came into Friday nights game against home team Romeoville (3-3) as an unlikely underdog after Romeoville took it to Plainfield South a week earlier in a 34-7 win, a team North had lost to in week 3. All the stats went out the window early in the first half as North went back to the basics and used their stout offensive line to run over Romeoville 31-19 in an impressive SPC win.
The Tigers running attack was paced by tailback Marcus Edwards who rushed an amazing 50 times for 406 yards and scored three times that simply buried the Spartan defense and put a serious dent in their playoff aspirations.
For Spartan fans, the one bright spot was the passing duo of Romeoville's junior quarterback Kelvin Jones who tossed three touchdowns to junior receiver Chuck Hunter. the combination of Jones and Hunter were simply too much to handle for the North defensive backs who struggled to keep the play in front of them all night. Romeoville never seemed out of the game despite trailing at one point in the game 31-7.
Both teams are in a must win situation if either hopes for a lock in the post season each needing 6 wins to guarantee a spot. "We are not out of it by any measure but this game hurts a bit no question about it," said Romeoville coach Jeff Kuna after the game. "We are a better team than how we played and I think we played poorly on the defensive line. This is a game that got away from us but we will get back to practice this week and try to correct the problems before we have to take on a very good Plainfield East team this week."