Bengals Kick Playoff Door Wide Open With Win Over Romeoville
10/16/2013, 2:41 p.m.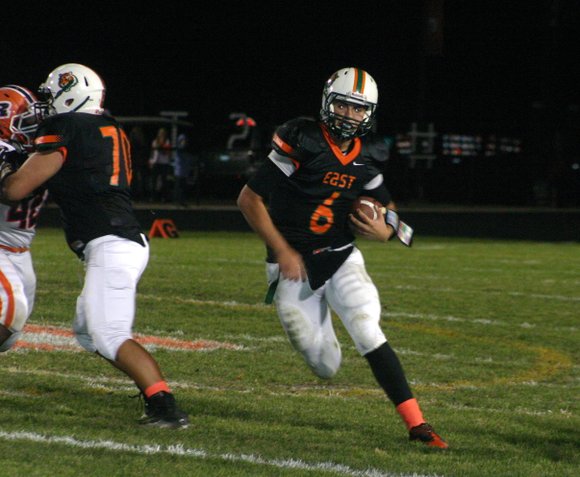 The Plainfield East Bengals earned their fifth win of the season and are on the doorstep of their first ever playoff birth after showing Romeoville the door 21-7 Friday night in Southwest Prairie Conference play.
It didn't take long for East (5-2, 3-2) to let Romeoville know it would be a long night for Spartan fans when Bengal quarterback Cole Kotopka found a streaking Shederick Majors down the seam for a 67-yard pass to the Romeoville 3-yard line on the first play from scrimmage. Kotopka capped the drive with a 3-yard score to take a 7-0 lead.
The Bengal defense forced a punt on Romeoville's first possession that resulted in a snap over the head of the Spartan punter leaving East with a first down at the Romeoville 15-yard line. It took only two plays for East to jump out front 14-0 after tailback Jake Mahon scored from 14-yards out with 7:30 left in the games opening quarter. The Bengals added a third touchdown in the quarter when Kotopka capped a 73-yard drive with a 2-yard touchdown keeper rounding out the East scoring 21-0 and silencing a stunned Spartan crowd.
Romeoville (3-4, 2-3) managed a late fourth quarter touchdown from senior tailback Miguel Ford but by that time the game was well in hand. For East who faces a winless Plainfield Central team this week, the win may very well prove to be the key to the playoff door that has been closed to the Bengals since their inception and likewise for Romeoville, the loss may be the turning point that keeps the post season out of reach.
With two games left to play, Romeoville is facing a must win situation for the remainder with Oswego East on their schedule at home this week and finishing on the road at Minooka in week 9.
"I am not sure how to feel," said East coach Mike Romeli after the win. "It's hard not to be excited for the kids but we need six wins to make this stick. The playoffs are a real possibility for us now but we want to do more than just show up in week 10. We didn't play great the last three quarters of this game and have to figure out how to improve if we want to make a run. This win tonight is a big step in the right direction but there is still work to do."