Cheesy Chili Casserole
10/16/2013, 1:10 p.m.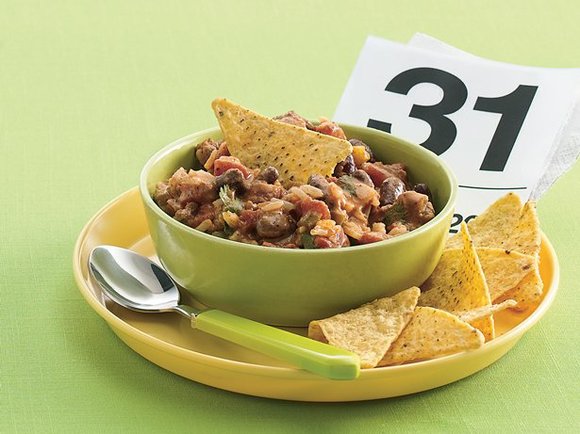 8 Servings
Ingredients
1 ½ cups uncooked regular long-grain white rice
2 ½ cups water
1 lb lean (at least 80%) ground beef
½ cup chopped onion
1 small green bell pepper, seeded and diced
2 cloves garlic, finely chopped
½ cup water
1 can (28 oz) diced tomatoes
1 can (15 oz) dark red kidney beans, drained, rinsed
1 cup (4 oz) cubed Mexican prepared cheese product with jalapeño peppers (from a loaf)
1 tablespoon chili powder
1 teaspoon ground cumin
½ teaspoon salt
3 tablespoons chopped fresh cilantro
Tortilla chips, as desired
Directions

Cook rice as directed on package, using 2 1/2 cups water.
In 12-inch skillet, cook beef over medium-high heat 5 to 7 minutes, stirring frequently, until thoroughly cooked; drain. Stir in onion, bell pepper, garlic, 1/2 cup water, the tomatoes and beans; cook about 6 minutes, stirring occasionally, until onion and bell pepper are tender. Stir in cheese product until melted. Stir in chili powder, cumin and salt. Cook 3 minutes longer.
Just before serving, gently stir in cooked rice and cilantro. Garnish with additional chopped cilantro, if desired. Serve warm with tortilla chips.