Dominick's closing unhappy economic news for Romeoville, Shorewood and beyond
10/16/2013, 5:07 p.m.
Safeway's recent announcement that it would be selling or shuttering all 72 of its Chicago area Dominick's stores came as big blow to shoppers and elected officials from area communities.
It means the potential loss of the Shorewood store, 950 Brookforest, that in 2001 kicked off the retail development of the corner of Black Road and Route 59 in the village and the Dominick's along Weber Road in Romeoville, among others.
Shorewood Village Administrator Roger Barrowman said village officials heard of the potential loss of Dominick's, one its retail cornerstones, last week and acknowledged the importance of the store's opening back in 2001.
"That was what started it all," Barrowman said.
The Romeoville Dominick's employs between 35 and 50 people, not counting the driver's and distributors who bring product to the store, Romeoville Village Manager Steve Gulden said.
Gulden said the village has been in close contact with the developer of the strip center along Weber Road and the hope is that the store will be sold to another grocer so the economic impact is minimal both in job loss and service to residents who like having a grocery store at that location.
"Hopefully, a new grocer will re-employ these individuals, taking into account their wealth of experience working at a grocery store," Gulden said.
Safeway announced that Jewel-Osco, traditionally a main competitor of Dominick's, had been in talks to buy some of the stores, but with a Jewel store to the south at the corner of Route 52 and 59, that scenario seemed unlikely for the Shorewood location.
According to Safeway spokesman Brian Dowling, the goal is to find buyers for all 72 locations, and not simply close them. Safeway has already sold four of its locations to New Albertsons, Inc., which operates Jewel-Osco stores. Before Wal-Mart, Target, Meier and others entered the grocery market in northeast Illinois, Jewel and Dominick's went head-to-head as competitors for shoppers.
Of the four locations to become Jewel-Osco stores, two are in Chicago, one is in Glenview and the fourth is at 14200 S. Bell Road in Homer Glen. While underperforming stores have closed in recent years, there are still a number of Dominick's stores throughout the region. In addition to the one in Shorewood on Brookforest and the one in Romeoville at 435 N. Weber Road, the other in Homer Glen, there's also a store at 2318 Essington in Joliet, among others.
Employees at the Shorewood store were notified that if a buyer wasn't found, the store would be closed by the beginning of the year, according to Barrowman.
Following its opening in 2001, large box retailers followed the grocer's lead, with Home Depot, Target and Jewel-Osco setting up shop along the main thoroughfare through town.
"That was the big box that dragged along the other development,"
Shorewood Mayor Rick Chapman said.
At the time that Dominick's broke ground at the corner of Black Road there was a Speedway gas station on the west side of Route 59 and not much else, Chapman added.
"The east side was pretty much blank and it was still being farmed," he said.
The Dominick's on Weber also was one of the early retail big box developers for Romeoville and the store later added a gas station at the end of the parking lot.
The impact that the closing of the Dominick's stores in Romeoville and Shorewood will have on local employment and tax revenues remains to be seen.
Romeoville Mayor John Noak agreed said although the closure may have a slight impact on the Village's sales-tax revenue, he and other village officials are confident that another retailer will take over the site as the store is along a major retail corridor.
"We hope that any new business which locates here will continue to employ some of the staff so job loss is minimal," Noak said.
Chapman is most concerned about the impact the Shorewood store's potential closing will have on the local families who rely on wages from the 45 or so employees who stand to lose their jobs at the store.
"My biggest concern is the people this will put out of work," he said.
Just as Noak is confident about the lure for developers to the Dominick's stores' Weber Road location, Chapman said he believes the Shorewood property will be an attractive purchase for a grocer or other retailer looking for a corner that sees a lot of traffic.
Shorewood's economic development director is already making calls, the mayor said.
"I would hope that somebody would come in and bring these people back to work," Chapman said. "It's out of our control, we just have to wait."
While Plainfield doesn't have a store within its boundaries, village planner Michael Garrigan said that grocery chain Mariano's Fresh Markets was the most likely candidate to purchase some of the soon-to-be shuttered Dominick's locations. Mariano's is run by former Dominick's executive Bob Mariano.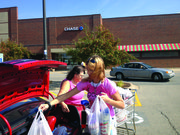 Stephanie Herek walked out the Dominick's on Weber Road last Friday with a cart load of groceries. She said she was angered to hear that the store would be closing in a year's time.
"I only shop here or over at Wal-Mart." "I've been shopping here for a long time."
With three small children and a husband at home, Herek estimates she spends $600 to $700 per month for groceries. She said she loves "Just for U," an online savings program offered by Dominick's. Herek said she saved $72.45 on her bill by using the program.
Calls to the Shorewood location for details about the impact on employees were referred to a corporate spokesperson who didn't return calls for comment.