Earning their trust
Ombudsmen to provide information to impacted residents about Illiana, third airport
Rex Robinson | 10/16/2013, 10:35 p.m.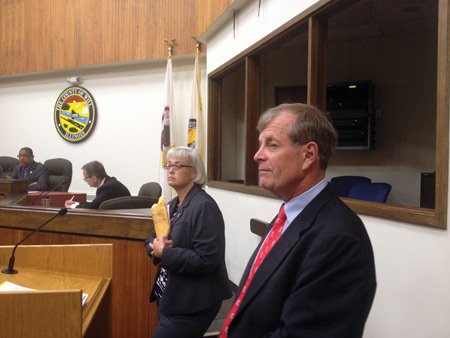 They have been hired to provide information to property owners who live on land that one day be a major expressway and a regional airport. They are referred to as ombudsmen and by definition that means they will "investigate complaints" and "mediate fair settlements."
Michael Hansen is the ombudsman for the Illiana Expressway project and Gary Mueller will fill the same role for the South Suburban Airport project. Their jobs are to disseminate information to property owners who live in the footprint of the two projects and keep property owners abreast of important matters pertaining to their land and any negotiations by the state to purchase their properties to make way for the expressway and airport.
Both are expected to be each by paid $90,000 annually by the Illinois Department of Transportation as ombudsmen.
Both appeared briefly last Thursday before members of the county board's executive committee to explain how they will proceed going forward.
Hansen's role as ombudsman for the Illiana Expressway at this point is in limbo until this Thursday when the Metropolitan Planning Organization's policy committee votes whether to include the Illiana in the 2040 Fiscally Constrained Transportation plan.

The Regional Coordinating Committee of the Chicago Metropolitan Agency for Planning on Oct. 9 voted 10-4 against including the project in the 2040 plan, but Will County officials say there is a better chance the MPO committee will approve the inclusion of the Illiana Expressway when it votes on the matter at 3 p.m. today at Willis Tower.
The 2040 plan is essentially a priority list for federally funded transportation projects and if the Illiana Expressway, a project estimated to cost $1.25 billion, is not on the list, it likely would not be considered for funding anytime soon. Also, it would mean Hansen's services would not be needed unless something changes and funding for the proposed expressway project becomes available.
Still, Hansen is preparing himself should the MPO's vote be favorable for the Illiana Expressway.
"My intention in the role as ombudsman is to be very proactive and very communicative," Hansen said.
Will County board member Bob Howard (D-Beecher) wanted to know what type of information Hansen could relay back to county board members from the residents.
"There is a certain, what I would call, quasi-attorney/client privilege here," Hansen said. "I certainly want to be respectful of the property owners and the questions that they ask me. A lot of that will be private and confidential."
Mary Tatroe, civil division chief for Will County State's Attorney Jim Glasgow, agreed, and said the ombudsman is meant to be a "confidential resource for the property owners.
"In the agreement we have, the ombudsman is actually prohibited from sharing any specific information about their consultation with the property owners."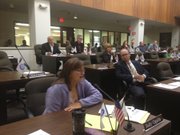 Howard then asked why his colleague on the board, county board member Judy Ogalla (R-Monee), recently met one-on-one with Hansen.
But both Ogalla and Hansen said they did not discuss individual property owners during their meeting.
Some property owners in eastern Will County have been down this road before. The last time the third airport project appeared to be gaining some momentum an ombudsman was hired to work with the property owners. Ogalla said there was a lack of in the ombudsman trust by some of those property owners.
Her goal this time around, she said, was to make sure everything was transparent. Ogalla said she wants to set up public meetings between the ombudsman and the residents so they could stay on top of everything that's going on.
Howard, however, expressed concerns about county board members setting up meetings between the ombudsmen and the property owners and said it could lead to conflict of interest problems and even open the door to political campaigning.
But that is simply not the case, according to Ogalla, who said she is doing her job as a Will County board member by keeping her constituents informed.
"There's absolutely nothing political about it," Ogalla said. "I'm just doing my job."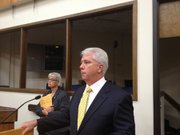 Meanwhile, Mueller said he, like Hansen, hopes to be "a conduit" to provide information to property owners. He added that he also plans to eventually have a website up where property owners can visit and get the most up-to-date information about what's going on with the airport project.
While Mueller has already fielded a few questions from landowners, he is not yet officially working as the airport ombudsman. "I'm not officially anything yet," Mueller said.