FEMA funds will help clear river debris in Shorewood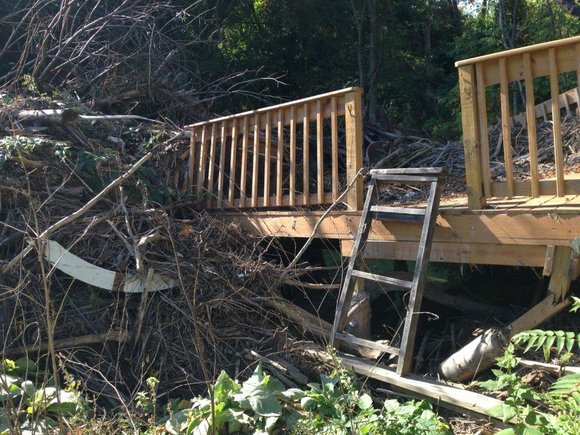 Shorewood officials are seeking federal assistance from FEMA that will help with a log jam of objects that were washed down the DuPage River during a rain storm in April.
Village administrator Roger Barrowman said that a debris pile of picnic tables, decks, hot tubs and other objects has formed a 12 foot by 40 foot barrier near where the river jogs to the east along Valencia Drive.
If it's not removed, he said, it could continue to block the river or dislodge causing further damage downstream.
"All of the debris comes down the river and just starts filling up the woods," said Barrowman of the torrential rains that brought the pile to the village.
"It's become a big dam," he said noting the need to remove the blockage.
"We're going to shut off half of the river."
$50,000 in disaster relief funds from FEMA should aid in the removal said Barrowman who noted the federal agency needed to be indemnified because the pile is resting on private property. He said the village would look in to the most cost effective way to remove the debris either through contracted services or by village public works employees.
Shorewood Mayor Rick Chapman said that the collection of debris is surprising in its enormity and acknowledged the need to remove it.
"It looks like the Hoover Dam," said Chapman.
"It's definitely going to cause problems if we don't get it out of there."
Though floodwaters didn't rise to the same levels as a flood in 1996 that destroyed 43 homes along the river, Will County was declared a disaster area qualifying municipalities for the disaster relief assistance. Since 1996, the village has purchased and demolished over 50 homes along the river, opening about 1 mile of land for public park space.


In nearby Plainfield, the April flooding caused an estimated $225,000 in damage.
Contact me with Plainfield and Shorewood area news at bralst1@gmail.com, or on Twitter @brockastein.