Verdi at 200: Muti's Macbeth
Entertainment and More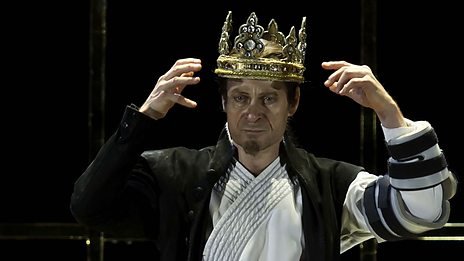 Chicago is celebrating Giuseppe Verdi's 200th birthday with myriad events. Riccardo Muti, acknowledged the world's greatest Verdi conductor, led the Chicago Symphony Orchestra, chorus and soloists in Macbeth, and on Verdi's actual birthday, October 10, his performance of Verdi's Requiem at Symphony Center will be simulcast in Millennium Park and streamed worldwide. Additionally, the Chicago Opera Theatre opened its season with the composer's rarely performed Joan of Arc, and Lyric Opera opened its season with Otello and has scheduled La Traviata for later in the season. There have been lectures and Phillip Gossett led a day's seminar on Joan. What have we learned about Verdi?
What is most important in Verdi performance?
As Macbeth made clear, for Maestro Muti it is what the composer wrote. Opening rehearsals to students, press and others, for the better part of a week he gave the equivalent of a graduate seminar, shared his process of achieving a Verdian mind-meld. Like a scholar teaching Torah, he says: 'Pay attention to what is written on the page. The text is clear: Do what it says; don't add, subtract or rewrite.' Like a Rebbe, guru or other spiritual mentor he works with his resources, each according to his, her or their needs and understanding. He was demanding: the dynamic ppp (Verdi writes many) is not p or pp; similarly the rare fff is not ff or f. There is a big difference between an eighth note or rest and a sixteenth. There are other directions: mysteriously, ghostly. trembling, dying, spoken, almost spoken that tell what Verdi had in mind. Muti was relentless, sitting at the piano, singing some parts, giving orchestra cues. It was all in the service of recreating, realizing the composer's intentions. In those moments when things got tense, or tired, Maestro Muti had a joke; ragazza, ragazze, ragazzi (boys/girls); an invitation for pizza, or to sing at a jail, or teasing the soloists about one thing or another. Mastery comes with age: when Mr. Muti was at Ravinia 40 years ago, he was gorgeous and insanely talented. But, with no crystal ball it was not assured that he would one day be il Maestro del mondo, one of the most honored conductors of this time. In the beginning, many orchestra players were older than he was. He tells the story of being so awed when he first conducted the CSO, that when he returned to Europe and was asked about the legendary brass section, he was at a loss. Of course, every day ameliorated that problem. What did all of this mean for the audience? With no staging or sets, no director to have to compromise with, no distractions, there was only the music--and the orchestra and chorus who keep getting more sensitively attuned to Mr. Muti's musical demands. Listeners are unlikely to hear the equal of this Macbeth and will surely never hear it done better.
What about the singers? Verdi, it is related, carefully chose dramatic singers rather than merely beautiful voices for these principal roles. Though it took a moment to accept the laughing young woman in jeans at rehearsal as the evil Lady Macbeth, Tatiana Serjan, who also sang in the Requiem, soon made her case as belonging to line of great Ladys of the past. Luca Salsi was an impetuous, effective Macbeth. Russian bass Dmitry Belosselskiy (Banquo) had an especially fine lower register. Tenors Francesco Meli (Macduff) and Antonello Ceran (Malcolm) were excellent. If the universe is fair, newcomers bass Gianluca Buratto (Assassin/Doctor) and soprant Simge Buyukedes (Lady-in-Waiting) should have big careers.
Reading the bios of the cast, most of whom were making Chicago debuts and most of whom have previously worked with Maestro Muti, it becomes clear that he views them as his living legacy. His many recordings will tell how things were. His singers will show the future how things should be.