Chicago International Film Festival Snippets: 12 Years a Slave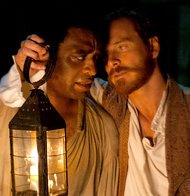 12 Years a Slave is being acclaimed as the best film ever made about slavery. Though lacking the background to compare, I can aver that Steve McQueen's film is magnificent, as fine as a Goya war painting. It will certainly be Oscar nominated in every applicable category; whether it will win–like Lincoln, it may be too good–remains to be seen.
Twelve Years a Slave: Narrative of Solomon Northrup, a Citizen of NY, Kidnapped in Washington City in 1841, and Rescued in 1853, From a Cotton Plantation Near the Red River, in Louisiana (adapted by John Ridley) is a true story. Solomon Northrup (Chiwetel Ejiofor), a violinist from Minerva, NY, was one of many free persons kidnapped and sold into slavery, but one of very few rescued and restored. Brad Pitt, one the film's producers, plays the small but pivotal role of Bass, the Canadian carpenter who effected his release.
The film's meticulous straightforwardness is what makes it so searing; the reality was even worse. Many scenes are indelible: the slave trader, Freeman (Paul Giamatti) offering prospective buyers refreshments as they peruse his merchandise; separating members of slave families; slave children playing, oblivious to the black man strung up on a tree quite near them; slaves applying balms to lashed, lacerated backs; slaves awakened in the middle of the night and made to dance and entertain; the unexpected decency of owners Judge Turner (Bryan Batt) and Master Ford (Benedict Cumberbatch); Solomon repeatedly warned to hide that fact that he can read because it could get him killed; Mistress Shaw's (Alfre Woodard) on how much better is being mistress of an unfaithful man than being a slave.
As in a painting, contrasts drive the points home: Washington City (DC) as the backdrop to the slave dungeons; the beauty of the plantations and the horrors that happened on them; the slave community as family and plantation families isolated and lonely; the Bible as justification for property (human) rights; each group fearful of the other; Solomon's humanity and sanity and his owner Edwin Epps' (Michael Fassbender) cruelty and psychosis.
When Solomon is finally reunited with his family he apologizes for his appearance: he has had a difficult time.