JTHS Board members receive IASB awards
10/23/2013, 2:25 p.m.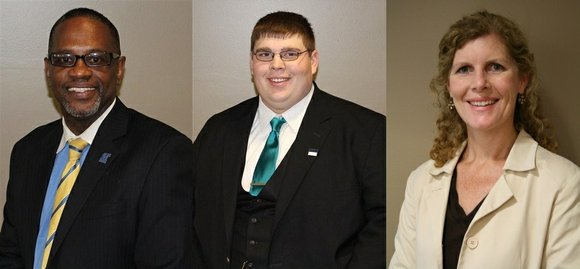 Joliet Township High School Board of Education members R. Dale Evans, Tyler Marcum and Tracy Spesia recently received awards in the Illinois Association of School Boards' (IASB) Master Board Member Program. The award recognizes the participation and service of board members in IASB activities that take place within and beyond their local school districts.
"This achievement models the life-long learning we all want to see in our students and board colleagues," said Jeffrey Cohn, Director of Field Services for IASB.
The awards were designated based on IASB activities that carry a varying number of points, which members accumulate by attending seminars, workshops, conferences, and serving on committees for IASB events. They are recognized at various point milestones and receive Member, Level I, Level II or Master Board Member status along the way. Spesia received Level 1 Status for accumulating 120 points. Evans and Marcum received Member Status for beginning the IASB Master Board Member Program.
The awards will be presented at the Three Rivers Fall Division Meeting on Tuesday, October 29 at Prairie Bluff Golf Club in Lockport.