Lyric Opera Opens with Otello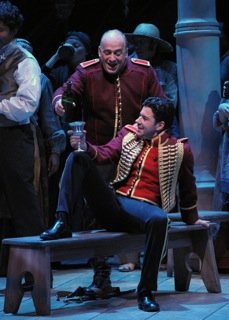 In recognition of Verdi's 200th birthday, Lyric opened its 59th season with Otello, the second of his Shakespeare operas. The production showed how HD video, in less than one decade, has changed the way we experience the art. The Met's transmissions (2006) introduced sports-type tracking cameras to give production added dimension; singers are supposed to look good and act believably as well as sing. This Otello tested what that might have meant for singers especially of the past–who had great voices but were wooden actors and not necessarily comely.
Johan Botha, the South African tenor who sang Otello, possesses an enormous voice in an enormous body. Considered today's reigning Otello by many, he sings the role with great beauty and ease, as if it were a walk in the park rather than one of the most difficult roles in the repertoire. His acting, however, is another matter. And, sadly, neither the costumes of uniforms under robes (John Gunther), nor the direction (Sir Peter Hall's much acclaimed production; Ashley Dean revival director), which requires him to fall to his knees, are kind to him. However, for those who count singing as the most important element in a production, none of that mattered.
Iago­–Verdi originally planned to call the opera Iago–was Falk Struckmann. His costume detracted and distracted from his evil manipulations: it's hard to take seriously a villain who is dressed in a maroon and red bellman's jacket, with lots of gold that accentuated his round middle. He was somewhat recovered from his opening night illness (where he sang only Act I), but not at his best. I look forward to hearing him when his is. Ana Maria Martinez, the rising star who was last season's Mimi, who has great success at Ravinia, was Desdemona. She sang intelligently, looked good and moved nicely, but it was a big stretch to imagine any attraction between her and Otello. Antonio Poli made his American debut as Cassio. He sang well, looked good and acted believably.
The set (John Gunther) of the first three acts was three floors of latticed (it's hot in Cyprus) doors and a fourth of only lattices. In the opening storm scene, it was decks of a ship; then it became a wooden Courtyards of Marriott. The main action took place within the curved inner space; the chorus was on the outside. Sir Peter Hall, a musician as well as a director, honored rather than denigrated the composer's directions.
Any reservations vanished in the fourth act, which was magical in every way. White drapes make the walls. Desdemona's bed, slanted for the audience's visual comfort, has a canopied, gauzy tower reaching high, high up. A chest sits at the front of the stage where, dressed in white, as she has been for the entire opera, she kneels to say her prayers. It is quiet until Otello enters and his outbursts are punctuations in bold type. Here, the acting between them, more voice than movement, made effective theater.