Seafood Lasagna
10/29/2013, 6:56 p.m.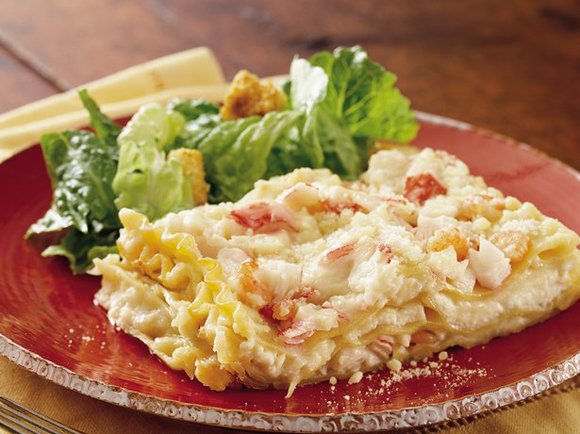 12 Servings
Ingredients
½ cup butter or margarine
2 garlic cloves, finely chopped
½ cup all-purpose flour
2 cups milk
2 cups chicken broth (from 32-ounce carton)
2 cups shredded mozzarella cheese (8 ounces)
4 medium green onions, sliced (1/4 cup)
2 tablespoons capers
1 teaspoon dried tarragon leaves
½ teaspoon lemon pepper
9 uncooked lasagna noodles
1 cup small curd creamed cottage cheese
1 can (6 ounces) crabmeat, drained and cartilage removed
1 can (4 ounces) tiny shrimp, drained
½ cup grated Parmesan cheese
Directions
Heat oven to 350ºF. Melt butter in 3-quart saucepan over low heat. Cook garlic in butter about 1 minute, stirring occasionally, until golden. Stir in flour. Cook, stirring constantly, until bubbly; remove from heat. Stir in milk and broth. Heat to boiling, stirring constantly. Boil and stir 1 minute. Stir in mozzarella cheese, onions, capers, tarragon and lemon pepper. Cook over low heat, stirring constantly, until cheese is melted.
Spread one-fourth of the cheese sauce (about 1 1/4 cups) in ungreased rectangular baking dish, 13x9x2 inches; top with 3 uncooked noodles. Spread cottage cheese over noodles. Repeat with one-fourth of the cheese sauce and 3 noodles. Top with crabmeat, shrimp, one-fourth of the cheese sauce, the remaining noodles and cheese sauce. Sprinkle with Parmesan cheese.
Bake uncovered about 40 minutes or until noodles are tender. Let stand 15 minutes before cutting.