Environmental group wants Romeoville plant shut down
Midwest Generation to be sold in first quarter of 2014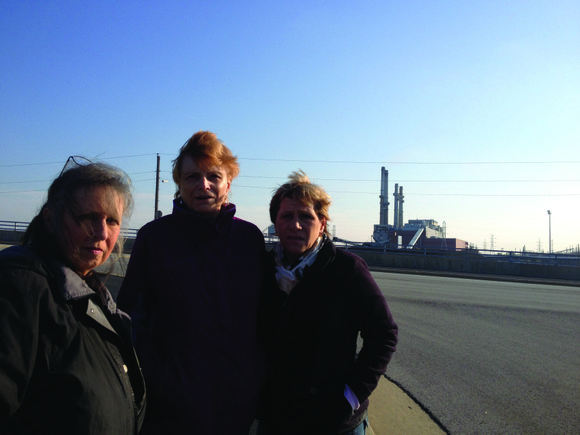 A local environmental group has long opposed the operations of the Midwest Generation coal-fired power plant along 135th Street in Romeoville, and has even called for it to be completely shut down, claiming it does nothing but pollute the environment and exacerbate asthma conditions for residents.
Edison Mission Energy, which owns the plant, has been in some serious financial trouble and filed for bankruptcy in 2012, yet the plant continues to operate. NRG Energy, Inc. just recently announced plans to purchase all subsidiaries of EME by the first quarter of 2014.
Members of the Lockport-based Citizens Against Ruining the Environment (C.A.R.E.) now want to know what that sale will mean to the Romeoville plant and whether NRG plans to shut it down.
Sandy Brucenski, a CARE member, said she is perplexed about what's going to happen with the plant going forward.
"I don't understand," she said. "Are they going to pay for pollution control upgrades? What are they going to do with the plant?"
CARE Director Ellen Rendulich told The Times Weekly she and other CARE members are "upset that another out-of-state company is coming in to run these dangerous emitters of air and water pollution.
"NRG Energy needs to know that community members are not going to allow these plants to continue to pollute our communities unchecked," Rendulich added. "We would like the company to establish a clear plan for their plants that will allow just transitions for the workers and include retirement dates so that we can chart a cleaner, healthier future for our families."
Karen Cleeve, who is in charge corporate communications for NRG, said the company has only just entered into the agreement to purchase the EME properties and it will take awhile to go through all the legal issues surrounding the bankruptcy before the sale is completed. Thus the future of the Romeoville plant is still up in the air.
"It's way too early in the process for us to make any kind of decision as to long-term plans," Cleeve said.
Standing outside the Midwest Generation Plant where the CITGO Lemont Refinery sits just across the street, Brucenski and Rendulich along with CARE member Mary Burnitz said there have been a number of complaints filed against Midwest Generation over the years by the Illinois Environmental Protection Agency.
"This whole corridor is nothing but air pollutants," Rendulich said.
They also expressed concerns about an Oct. 23 fire at the CITGO refinery.
Pete Colarelli, government affairs manager for the refinery, said there were no injuries as a result of the crude unit fire and air monitoring showed no readings of any hazardous materials.
The fire, according to Colarelli, was "limited to the vacuum distillation section of the Crude Unit.
"That section has been isolated and plans are being progressed to restart the
atmospheric section of the crude unit at reduced rates by the end of next week," Colarelli said Monday. "The safety of our employees and the surrounding community remains our first priority."