Bolingbrook's "Family of the Year"
9/4/2013, 4:49 p.m.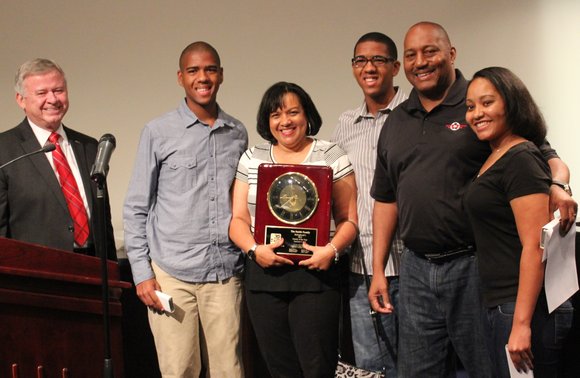 A family with deep Valley View School District 365U roots has been named Bolingbrook's "Citizen Family of the Year."
John and Carolyn Smith and their children, Jackie, Malcolm and Marcus, were honored by Mayor Roger Claar and the Bolingbrook Village Board Tuesday night.
Raising children who not only embrace but embody the "spirit of volunteerism" doesn't happen by chance. For Bolingbrook High School graduate Jackie, and BHS seniors Malcolm and Marcus, it was a choice that resulted from years of observing the ways their parents consistently contributed their talents to strengthen the community.
Not satisfied with shuttling his young daughter to Panther basketball games and practices, John got off the sidelines in 2002 and got involved. He coached basketball for three years before switching to coaching soccer in 2005.
Even after his three children cycled out of the program, John remained active with the youth soccer league. He currently serves as Vice President of the board.
Affectionately called "Mamma Carolyn" by her children's friends; she's also known as the "go to" Mom by their parents for her willingness to car-pool, chaperon and chit-chat. Carolyn has continually been a strong advocate for education morphing into whatever role was requested by parent groups at Jonas Salk, Pioneer, Humphrey and Brooks. Carolyn currently serves as public relations chair for the BHS Band Boosters and is part of the BHS Madrigals parental support team.
Jackie, is an Illinois State Scholar and former goalie for the BHS varsity soccer team, who graduated in the top 10% of the class of 2010. She is currently a senior at the University of Illinois at Urbana-Champaign majoring in communications where she is deeply involved in volunteer work. A natural leader, she was instrumental in the launch and growth of the DuPage Township Summer Bridge program and played an integral role directing the activities of BHS National Honor Society youth volunteers.
Malcolm and his identical twin brother, Marcus, maintain a laser focus on scholarship and service.
Malcolm, the eldest by one minute, juggles academics and a wide range of interscholastic pursuits. He has a stellar school record, ranking 29th out of a graduating class of 721 students with a 4.36 GPA in honors classes and an ACT score of 29. He has been a drum major for the BHS Marching Raiders since 2011, a Jazz and Pep Band member, Sunrise Singer and Madrigal.
He served as a referee for six years for the youth soccer league and formerly played Volleyball (where he was captain for one year) and Junior Varsity Soccer at BHS.
Like his big brother, Marcus is an exceptional student with a sunny disposition who has maintained a clear sense of self and purpose melding aspects of his intellect, interests and physical capabilities. He's Secretary of the class of 2014, ranks 20th in his class, is enrolled in advanced placement classes where has earned a 4.5 GPA and scored a 31 on the ACT.
Marcus is a member of National Honor Society, a section leader for the BHS marching band, a member of the pep and jazz bands and a Sunrise Singer. He's also been a youth soccer referee for six years as well as formerly being voted team captain (one year each) for both the BHS Volleyball and Junior Varsity Soccer teams.
Both young men are generous with their time and energy, exhibiting a penchant for volunteerism, participating in the BHS Best Buddy program for three years as well as tutoring at Friendship United Methodist Church. This past summer the boys both committed 3 hours a day, 3 days a week to support under-resourced youth who participated in DuPage Townships Summer Bridge Program.