Immigration reform group presents petitions to Foster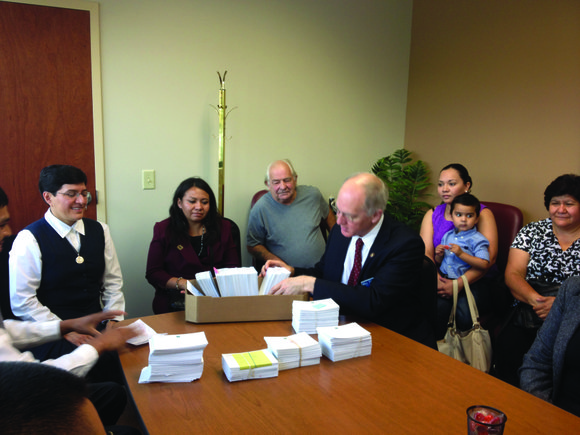 A Hispanic group from Catholic Diocese of Joliet visited U.S. Rep. Bill Foster (D-Naperville) on Friday to drop off petitions urging the passage of immigration reform at the federal level and to remind the congressman about why that legislation is so desperately needed.
Keith Michael Estrada, justice and peace coordinator for the office for human dignity at the Catholic Diocese of Joliet, along with members of Nuevo Horizonte (New Horizon), the first immigrant-run social ministry group of the Joliet Diocese, presented Foster with 2,200 postcards they collected which call on representatives to continue pushing for fair, compassionate comprehensive immigration reform.
One woman, a Joliet mother of two who asked that her name not be used, said she was a living testimony of someone going through the deportation process right now. The woman said she was brought to the United States. by her parents at the age of 14 and if she is deported back to Mexico she will have nowhere to live and be torn from her family.
Others among the group, like Carolina Vargas, of Frankfort, said they had family members going through the deportation process as well. Vargas said it is devastating for the children when families get separated.
"They just know their father went to work and never came back," she said.
Nata Martinez, of Joliet, recalled how her father brought her and her eight siblings across the border one at a time and three at a time when they were all very young. Martinez went on to become a U.S. citizen. In the process of doing that, she said she wanted to learn more about the U.S. system of government. It helped her to help family and friends who are undocumented.
"Those of us who have a voice can speak for those who don't," Martinez said.
The woman who is facing deportation told Foster she just wants to go to school and get a good job so she can work and provide for her two children, who are 11 and 14. If deported, she said, "I'm homeless."
Foster said this problem should have been resolved 20 years ago.
"You're speaking to the choir," he said. "I'm doing everything I can to make this happen."
According to Foster, both churches and chambers of commerce from around the nation are in favor of immigration reform. The chambers, he said, know how much reform will mean to stimulating the economy. Foster said House Speaker John Boehner holds the power to push immigration reform through, but has not done so most likely because he fears it might cost him votes in the next election.
Foster told the group that now is the time to press members of congress, but not with boisterous marches and rallies.
"I think right now is the time for quite meetings with your congressmen," Foster said.
The postcards call on congress to support immigration reform that provides a path to citizenship for undocumented people in the United States; preserves family-unity as a corner-stone of the national immigration system; provides legal paths for low-skilled immigrant workers to come and work in the U.S.; restores due process protections to immigration enforcement policies, and; addresses the root causes of migration, such as persecution and economic disparity.
Abel Sanchez, 23, of Joliet, said the reason so many Hispanics come into the U.S. is the same as all other immigrants who have come to the U.S. since the country began. They want a better life, he said.
"There are no jobs there," Sanchez said.