Plainfield public transportation may rest on developing bus service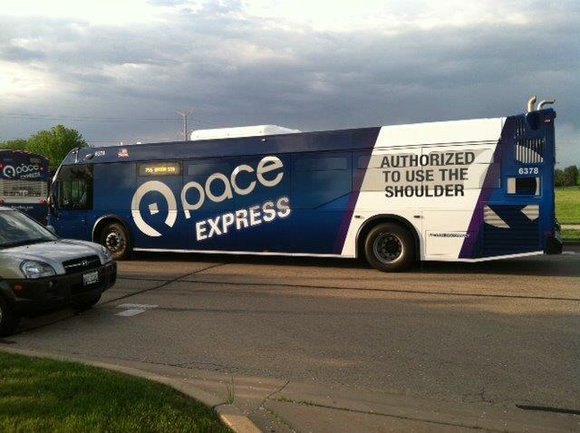 Plainfield Village staffers are developing action plans based on a recently approved strategic plan that was created with public input.
One area of focus will be the expansion of Pace Bus service routes that connect village commuters to downtown Chicago.
Pace service to the city began in 2011 and has seen steady increases in ridership with additional bus routes added in recent months to keep up with demand. With more and more demand, riders, who park at the village hall lot, are running out of space.
"We want to make sure we're involved in making sure that that bus on shoulder service is continued," said Plainfield Village Administrator Brian Murphy recently.
Public transportation connecting Plainfield and neighboring communities continues to creep toward the suburbs and may one day include the village's own Metra Line stop. Neighboring Romeoville is currently in phase 1 design of a Metra Station at New Avenue and 135th Street and could break ground in 2014.
Murphy said that the village has about 58 acres along Wood Farm Road that's been set aside for its own station in the future.
Murphy noted that the growing demand for more public transportation options stems from numbers that show that about 80% of commuters coming from the village and surrounding areas work in neighboring DuPage and Cook Counties.
"And a large number of them do rely on Metra service," he said.
Murphy noted that a Metra stop of the village's own may be way off in the future but says that a robust Pace Bus service may be the first step toward that end.
As such, the village has as part of its master plan a resolution to support the work of the Romeoville station bringing a Metra station that much closer for Plainfield residents. Murphy described the support as non-financial.
"It just provides another form of public transportation for a number of our residents," he said of the planned station that could break ground in 2014.
Another action step to be taken in the next year will include an RTA study that will look at the needs of residents in the area. Those needs may include bus service that will allow commuters to hop on a bus to pick up a connection at the Naperville Metra Station.
"There are a number of folks who would like to get up to the Route 59 station and take Metra in," said Murphy.
The village's current bus service has two bus routes, the 755 and 855, which leave from Plainfield Village Hall, making stops in neighboring Bolingbrook. The buses have the advantage of being able to drive on the shoulder when traffic slows to 35 miles per hour.
Since service began leaving from village hall in November 2011, ridership has grown on both bus routes. Route 755 carried about 40 passengers per day in March of 2011, and by March 2013 that number had grown to 137, an increase of over 240% according to Pace's website.
Route 855 has gone from 281 passengers per day in 2011 to 451 by March 2013-a 61% jump.
Contact me with Plainfield and Shorewood area news at bralst1@gmail.com, or on Twitter @brockastein.