Will County veterans learn about job opportunities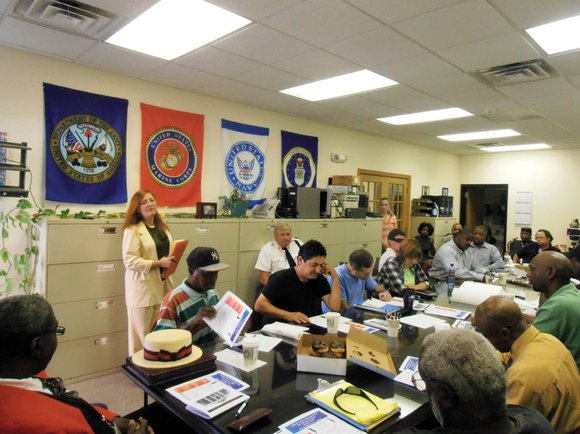 About 25 unemployed veterans from throughout Will County packed into a room at the Veterans Assistance Commission office in Joliet last Friday to meet with a representative from a staffing agency and hear about ways to find employment.
This was the first time an employer came to the VAC to meet with veterans and fill them in on job opportunities in the area under a monthly program spearheaded by Kristi McNichol, the VAC's new acting director.
Dondretta Strong, of CoWorx Staffing Services' office in Bolingbrook, came to the VAC to tell the veterans about employment opportunities in industrial, logistics and manufacturing in both Will and DuPage counties. The positions pay from $9.20 per hour up to $19 per hour, Strong said.
Strong outlined the various requirements for getting employment through the staffing agency, including going through criminal background checks and drug testing. Both are necessary, she said, to ensure safe working environments.
Tim Smith, 48, of Joliet, served in the U.S. Army from 1988 to 1991, and was one of the vets who came looking for work.
"It seems like they're in favor of supporting the vets and I'm all in favor of that," Smith said.
Veterans who are on public assistance through the VAC are required to search for employment, according to McNichol and Friday's meeting with Strong helps them fulfill part of that requirement. However, McNichol said a number of vets who are not on public assistance also showed up Friday.
"They are here today because they know a potential employer will be here," McNichol said.
Strong left business cards for the vets and gave them the phone number for the staffing agency.
In the past, McNichol said, only representatives from non-profit organizations, such as Good Will and Bounce Back Social Services, have come in to talk to the vets. She said she hopes to bring in more potential employers in the future.
Wayne Sheard Sr., 44, of Lockport, just moved back to the area from Wisconsin, and before that he worked as a corrections officer in both Arizona and Virginia.
"I need to work," he said. "I'm married and have two children."
Donald Tillman, a 68-year-old veteran from Crest Hill, said he wanted to hear about more employment opportunities for senior citizens.
"I would like to see some classes and education for seniors to help get them back in the workforce," Tillman said.
Denise Meehan, of Plainfield, also spoke to the vets, and gave them details on the Veteran Career & Education Fair being held from 9 a.m. to 3:30 p.m. Oct. 19 at the Cantigny VFW post at 825 Horseshoe Drive, in Joliet. The fair will feature a free resume workshop and onsite testing for State of Illinois jobs. It is rare for the CMS testing to be available at other sites besides the Thompson Center in downtown Chicago, according to Meehan.
"Yes, the state is broke," Meehan said, "but jobs still need to get done."
McNichol encouraged the vets not to be afraid of taking the tests for possible work with the state.
"All of you have the skills to do it," McNichol said. "It's not hard. Don't get overwhelmed and absolutely go for it."