Affordable Care Act enrollment starts Tuesday
More revealed about the new law during library program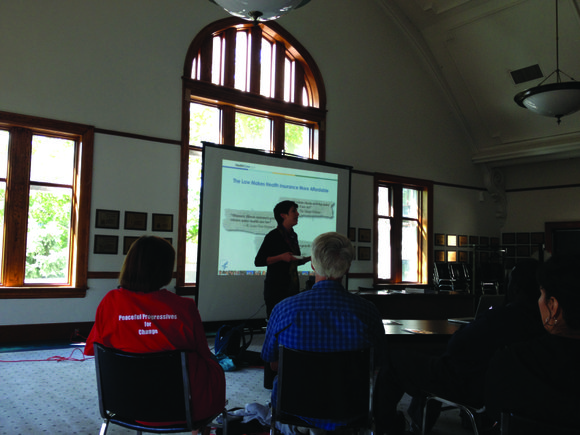 While in Washington democrats prepare to launch it and republicans threaten to defund it, a group from Chicago on Sunday outlined the Affordable Care Act for residents who attended a program at the Joliet Public Library.
Jillian Phillips, with the Campaign for Better Health Care, spent about an hour outlining how the new national health insurance program, also known as Obamacare, will work and fielded questions from members of the audience about the program. More than 50 people attended the program at the library.
Phillips made it clear that her goal was to explain how the new law will work and not to debate the merits of it.
Open enrollment for the Affordable Care Act in less than a week away and begins Tuesday, Oct. 1, but the law doesn't take effect until Jan. 1, 2014. In order for coverage to begin on Jan. 1, those participating in the new plan need to enroll by Dec. 15, according to Phillips.
People who are on Medicare or already have insurance through an employer will not need to do anything, Phillips said. Those individuals will continue to get the coverage they have always had, she added.
"Under Obamacare, Medicare doesn't change," Phillips said. "The law strengthens Medicare."
Under the new law, anyone with a pre-existing condition, such as diabetes, cannot be denied insurance. The Affordable Care Act also expands the Medicare program in certain states including Illinois and anyone who makes $16,000 a year or less (this applies to those who are unemployed) would be eligible for that expanded Medicare, Phillips said.
Premium subsidies will be made available through the government and will be calculated based on the individual's current income. Most will be eligible for some type of premium subsidy. What this means is that the federal government will help pay a portion of people's monthly premium based on their income, according to Phillips. This will be made available, she added, through tax credits.
Small business owners will not be penalized for not offering insurance through the Affordable Care Act, however tax write offs will be available for businesses that do offer the insurance, according to Phillips.
A Bolingbrook woman asked about undocumented immigrants and how they would sign up for the program. However, illegal aliens are not eligible for the program. According to the IllinoisHealthMatters.org website, "undocumented immigrants will not be allowed to purchase policies through the new health care exchange, with or without federal subsidies. Although they will not be required to buy insurance, they may still be able to purchase on the private market."
Individuals will be able to shop the new insurance market place online and can compare rates from different companies. Small businesses can shop for a small group plan through the SHOP (Small business Health Options Program) Marketplace. There'll be a list of registered brokers available through the state at no additional cost.
There will be four major types of plans including bronze, silver, gold and platinum, with silver being the least costly in terms of monthly premiums and platinum being the highest in terms of cost.
There are 10 essential all plans must cover, such as ambulatory care, vaccinations and free preventative care, blood pressure and cholesterol screening. The new law also prohibits insurance companies from dropping people when they get sick.