Lockport explores art to attract development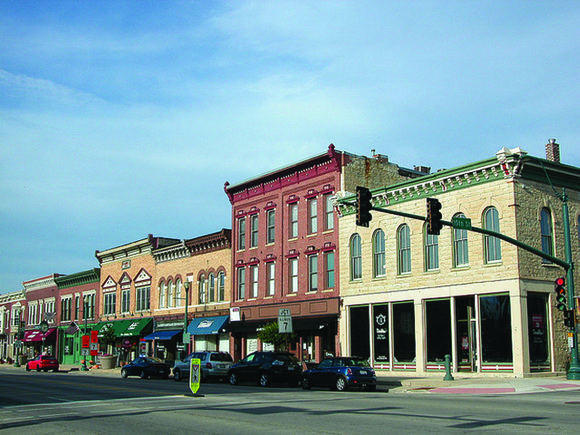 The Gaylord building in downtown Lockport features an exhibition gallery where people can visit and learn about the city's history and view artifacts.
People typically drop in the gallery when visiting the Public Landing Restaurant, also within the Gaylord building.
A number of other older buildings line the landscape of downtown Lockport. The problem is there's quite a bit of vacant space in those buildings.
"Our downtown obviously has its struggles," Lockport Mayor Steve Streit said at a recent City Council meeting.
As a way to attract more development to downtown Lockport, City Administrator Ben Benson has been in discussions with Mark Harmon, executive director of the Gaylord building, and Artspace, an organization that runs a network of 33 affordable art facilities in 13 states. The organization has worked with the city of Elgin to help transform its downtown and create spaces for artists.
Streit agrees Artspace could be viable opportunity in helping to spur development in downtown Lockport.
"We have a lot of potential buildings that could be turned into these artist lofts and work spaces," Streit said. "It's one more tool that we want to put in our arsenal to develop the downtown…"
As a first step toward getting an arts program started in downtown Lockport, the city has agreed to spend up to $7,000 as part of a matching contribution to a grant from the National Trust for Historic Preservation. Artspace would then explore available spaces within buildings and take a closer look at whether it's something viable to helping spur further economic development.
In the past, the city has attempted to get Metra to open up the Heritage line and add more train stops in downtown Lockport as a way to increase foot traffic in the city's downtown, but that has not come to fruition, according to Lockport Ald. Pete Collarelli (1st Ward).
Attracting artists to the downtown, he added, could be a good way to entice more people and potential customers for future businesses.
"I like this idea," Collarelli said. "I think it's innovative."
Ald. Kelly Turner, 2nd Ward, also agreed trying to attract artists to downtown Lockport could help in spurring further economic development. However, he questioned spending $12,000 (money required for Artspace to do the study) to have consultants walk along the downtown and identify vacant loft spaces.
Benson said Mark Harmon, executive director for the Gaylord building, is assisting the city with the project and has applied for the matching grant. If the city receives the grant it would assist in providing the funding needed for the Artspace organization to renovate some of the downtown buildings and turn them into spaces for artists and musicians, according to Benson.
"We're thrilled that Mark Harmon has applied for the grant with the National Trust of Historic Preservation and hopefully we'll be able to split that cost," Benson said.
Streit said Harmon's assistance with the plan is what makes it something worthwhile for the city to pursue. Also, Artspace will be doing more than just identifying vacant space in downtown Lockport, according to the mayor. They also will look at surrounding communities and search out artists who would be interesting in leasing loft spaces in downtown Lockport.