Muti ends his spring CSO residency with spectacular Schubert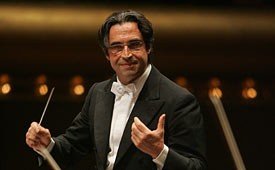 A UCLA music major wrote: Schubert was born in 1809 and wrote Finlandia. The professor understood that it's easy to confuse Schubert and Chopin, but Schubert and Sibelius? The student patiently explained: Schubert wrote unfinish and finish symphonies; Finnish can only be Finlandia! Riccardo Muti led the Chicago Symphony Orchestra in one of each for last week's concerts, the last week of his Spring Residency. Symphony No. 8 in B Minor (Unfinished) and Symphony No. 2 in B-flat Major bookended the Elgar Cello Concerto in which the soloist was John Sharp, the orchestra's principal cellist.
Maestro Muti, (MM's) is doing a complete cycle of Schubert Symphonies this season. Missing the Great C Major the previous week was, on the one hand, a loss, especially as principal clarinet Stephen Williamson was back for the week; on the other, have you ever counted Schubert's myriad motivic repetitions, even without repeats? Principal flute Matthieu Dufour was back for this week's concerts and hearing him whets listeners' anticipation for the sound of the full woodwind complement next September when Williamson returns from his leave of absence to the NY Philharmonic.
Maestro Muti stopped the orchestra just a few bars into the Unfinished and waited until coughing and fidgeting quieted before beginning again. Chicago audiences are on any shortlist of noisiest and it is questionable if even MM can tame us. But what to do about hearing aid batteries? There are many, especially in an afternoon performance. He also spoke to the audience to explain the second half's late start. A violinist had broken her bow, and needed to replace it as "it is necessary for playing." One of the world's great charmers is our Maestro.
Schubert composed these two symphonies when he was 25 and 18, respectively, about the same time (1820's) and age (16) as Mendelssohn's Octet. That they are a young man's work is part of their charm and accessibility. MM's interpretation had an Italian nuance (Rossini was born a little before Schubert, but outlived him): Schubert's dynamics and line with Italian crispness. The ppp in the opening of the Unfinished made a palpable contrast with what came after; melodic lines seemed to float on cosmic rather than metric time, what Schubert's songs might have become had he lived to maturity and beyond. This was contrasted, especially in the Second's Presto, with breathtakingly fast but thrillingly, perfectly articulated passagework, something very few other groups could even dream of approaching. Overall, however, this was a mature adult looking back at youth with a Marschallin's nostalgia, especially poignant in moments like the Second's Minuet.
When Elgar wrote his Cello Concerto both and his wife were ill. She died not long after attending the premiere; he lived but wrote almost nothing. The concerto is both a grand, majestic work and a personal one that portrays his heartbreak. It has a special place in my heart because it was on the program to which we smuggled my mom, hospital bed and all, into George Szell's kindly provided box at Severance Hall, when it seemed she would survive a major stroke. That performance exuded the heightened, heated passion of its young soloist. Principal cellist John Sharp's interpretation was mature, introspective and wise: flash tempered by time. His tone is gorgeous, his technique flawless, and he displayed the listening acuity more the province of orchestra player than a full-time soloist. It made for a sensitive, almost mind-meld collaboration.