Shorewood State of the Village: Pretty Good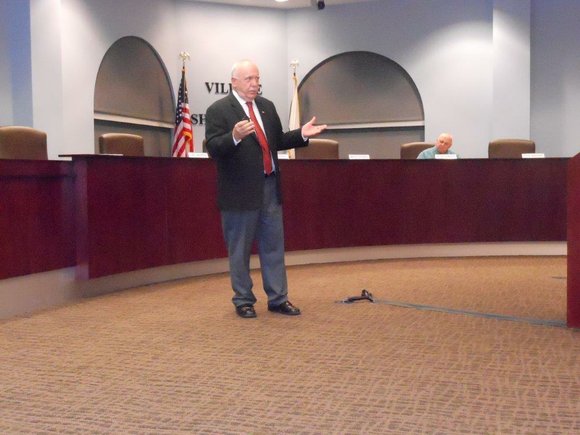 Chapman said that new housing construction was starting to rebound as well with 100 new homes going up in 2013, another key economic health indicator.
"House construction is the back bone of this country," said Chapman noting that new homes employ construction related workers as well from landscapers to asphalt manufacturers.
He credits much of the rebound to a reduction in home building fees which cut average costs of about $28,000 in 2012 to an average of under $16,000 today. The reduction he said helped attract new home builders like Ryland Homes to buy lots in the Fields of Shorewood subdivision a week after the reduction was announced, as well as Ryan Homes which has sold seven homes in the Towne Center subdivision.
"It does put people to work," said Chapman of the housing starts.
"If we're not building anything people aren't working."
The reduced home fees will sunset in 2015, and like Governor Pat Quinn's recent move to make the temporary 2011 income tax increase permanent, Chapman said that he would do the same.
"I'm going to be just like Governor Quinn. I'm going to ask for an extension from the board," said Chapman who noted that the previous fee structure was in anticipation of having to build a new sewer treatment plant, a plan that is now off the table.
"If you don't have a reason to do it anymore I call that gouging," he said.
With the warm weather anticipated, Chapman said that the village would start several capital improvement projects this spring and summer. Those include new lighting along the village's portions of Route 59 and 52 for a price tag of about $1.8 million. The village also plans to start work on a new 1.5 million gallon elevated water storage tank on Mound Road for $5 million.
In addition to the rehab of about 1.9 miles of village roadway and a $700,000 project to complete streets, curbs and sidewalks in the Edgewater subdivision which wasn't finished after the builder went bankrupt. Chapman said that the roads in that subdivision need to be surfaced soon which will require the village to take the developer to court to recapture their funds.
As part of the village's DuPage Master Plan to develop park space along the river, the village will also unveil the newly renovated Westshore Park this spring and has just inked a deal to purchase the former Troy Fire station at the corner of Routes 59 and 52 for future development.
Contact me with Plainfield and Shorewood related news at bralst1@gmail.com or on Twitter @BrockAStein.