One-Pot Mexican Cheesy Chicken and Sausage with Black Beans
4/8/2014, 12:14 a.m.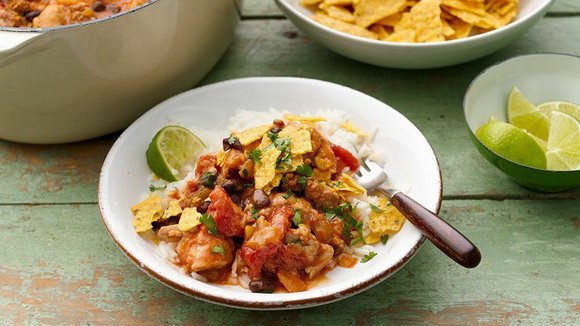 Ingredients
2 tablespoons olive oil
½ lb fresh chorizo or bulk pork sausage
1 ¼ lb boneless skinless chicken thighs, cut into 1-inch cubes
1 white onion, diced
½ teaspoon salt
1 tablespoon taco seasoning mix (from 1-oz package)
1 can (4.5 oz) chopped green chiles
1 can (28 oz) whole peeled tomatoes, undrained
1 can (15 oz) black beans, drained, rinsed
2 cups shredded Monterey Jack or pepper Jack cheese (8 oz)
2 cups coarsely crushed tortilla chips
¼ cup chopped fresh cilantro
6 lime wedges
4 ½ cups cooked rice or 6 flour tortillas for soft tacos & fajitas (6 inch), if desired
Directions

In Dutch oven, heat 1 tablespoon oil over medium heat. Add chorizo and cook, turning occasionally, 6 to 10 minutes or until no longer pink. Drain. Transfer chorizo to plate; set aside.

In same Dutch oven, add chicken and cook on all sides 6 to 10 minutes or until browned on outside and cooked through. Transfer to plate with chorizo.

Add remaining tablespoon of oil to same Dutch oven. Add onion and salt. Cook 4 to 5 minutes or until onion softens. Stir in seasoning mix and chiles; cook 1 minute longer. Crush tomatoes, and add with liquid. Heat to simmering.

Add sausage, chicken and beans. Return to simmering, and cook 5 minutes to allow flavors to combine.
Stir in cheese; top with chips and cilantro. Serve with lime over rice or tortillas.