New intersection coming for Romeoville High School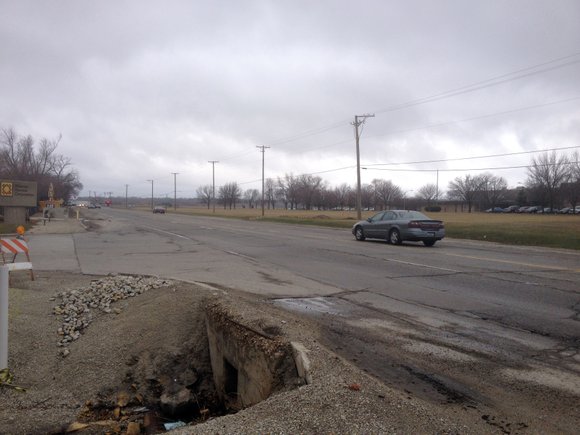 Construction is expected to get underway in the next couple of weeks on a new intersection that will provide safer way in and out of Romeoville High School.
Come this fall, for the first time in the school's history, there will be an intersection with a four-way stop light off of Illinois Route 53. The light will be for buses and other vehicles that come and go from Romeoville High School as well as truck traffic from Hanson Material Service, according to Romeoville Village Manger Steve Gulden.
"It's unsafe at times with the bus traffic from the high school and trucks coming and going from Hanson Materials," Gulden said. "This allows for a second major access into the high school."

The village board approved the $1.8 million project earlier this month when it voted to adopt the 2014-15 fiscal year budget of $92.09 million.
The main way in and out of Romeoville High School now is along Taylor Road and there is no traffic light at that entrance.
"In terms of safety, it gives us an additional way in and out that will help with traffic flow for some of the larger events, such as football games and graduations," said Dave Richards, Valley View School District 365U's assistant director of transportation.
The new intersection also will be an asset for the school should there ever be an emergency situation resulting in a need for fire trucks, ambulances or police vehicles to get in and out of the school fast, Richards added.
"It also gives us the option to separate cars and buses," he said. "Anytime we can separate buses and cars it's definitely a safer way to do things."
Richards said the intersection has been something that has been on the district's radar for quite some time.
The new intersection will result in there being three entrances into the high school because in addition to the Taylor Road entrance there also is a back way into the school off of Troxel Avenue.
"This will be a big improvement for traffic flow around the property," Richards said of the new intersection.
Depending on weather conditions throughout the season, the intersection is expected to be completed by early this fall, but likely not in time for the start of the next school year, according to Richards.
Rex Robinson can be reached at rex@thetimesweekly.com.