Local pastor expands his message on Resurrection Sunday
Madhu Mayer | 4/16/2014, 10:57 p.m.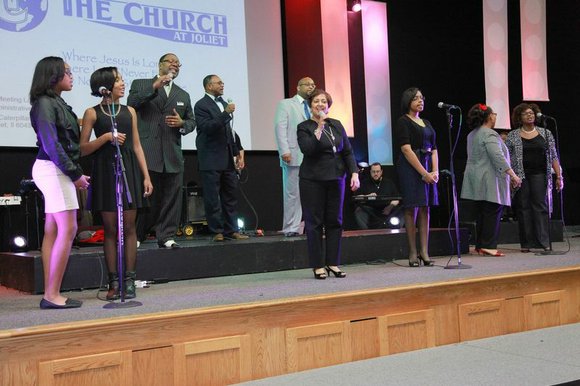 After 11 years in Bolingbrook, Senior Pastor Calvin Quarles is expanding his message to the Joliet community. Beginning on Resurrection Sunday, the former Bolingbrook Community Church will not only be celebrating the resurrection but also their new name, The Church at Bolingbrook, and their new location in Joliet. The Church at Bolingbrook will remain in Bolingbrook with services at Bolingbrook High School, 365 Raider Way in Bolingbrook. The new location in Joliet named The Church at Joliet is located at The Joliet Township High School Administrative Center 300 Caterpillar Drive in Joliet where Pastor Edward L. Winfrey Jr. will officiate. On Easter Sunday services will begin in Joliet at the new location.
In celebration of the launch a service was held on Sunday afternoon April 13 at Trinity Christian School in Shorewood where about 350 family friends and community leaders attended.
Both Joliet and Bolingbrook churches are non-denominational, multicultural, congregations, Pastor Quarles said.
According to pastor Quarles, the Bolingbrook Community Church's name was changed to The Church at Bolingbrook because the leadership wants to spread the ministry to other locations in the Chicago area and eventually India and Africa.
"It is our vision to be a church planting, multi-site, ministry movement," said Quarles, who spent three decades as a business professional before becoming a church leader. "We welcome people of any and all experiences."
Quarles said he is proud to teach what he calls an "uncompromising, yet life-changing gospel that empowers people from all walks of life, backgrounds and experiences." The church's ministry focuses on several areas, including life development, youth, marriage and the recovery process.
"We are reaching out to people who are not going to church," he said. "Our real intent is to advance the kingdom. There are seven billion people on earth and two billion are Christians. There is a lot of work to be done."
Pastor Quarles was ordained in 1987 at Mount Zion M. B. Church in Joliet under the pastorate of Dr. Isaac Singleton Sr. As a member of Mount Zion he served in many capacities, including as Sunday School Teacher, Deacon and Youth Pastor for more than 15 years. He studied at Moody Bible College in Chicago and is a graduate of Lewis University in Romeoville, where he received a bachelors of Science Degree in business administration. He is now enrolled in the masters of divinity program at Trinity International Graduate School in Deerfield. He is currently president of the Bolingbrook Christian Clergy Association. Pastor Quarles lives in Bolingbrook, is married and has 5 children.
Easter Sunday service in the new Joliet location will begin at 10:30 a.m., The Bolingbrook location services begin at 10am. On Wednesday evenings at 6 o'clock, the congregation meets for prayer, followed by breakout sessions where members study and share the Word of God.