'Five Star' compelling and well worth the price of the ticket
4/18/2014, 7:26 p.m.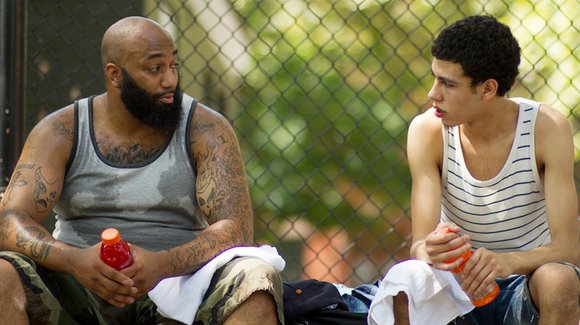 We soon learn that another child is on the way and Primo is overjoyed. We especially meet young Sincere, Primo's son, who is profoundly affected by autism. Primo's own children played themselves in the movie and both the director and Primo deemed them "naturals" in front of the camera. In a post-screening Q and A, Primo declared that his son, "no matter what anyone says about him. He's perfect!"
It's the kind of whistling in the dark heroism displayed by many parents of autistic children, which I learned as a volunteer with the Autism Spectrum Disorder Foundation, in which horses are used as Equine Therapy with children who have autism. The children with autism interact and communicate with the horses in a way that they will not with humans. It's magical to see. (See the reference in actor
Liam Neeson's op-ed piece on the Central Park horse drawn controversy in the April 14 New York Times).
Director Miller admits that parts of the film were unscripted. That is both one of its strengths, and its profound weakness. As Miller later pointed out in the post-screening Q and A, the ad libbed approachs fostered a great deal of honesty in the actor's interactions and contributed to the authenticity of some of the scenes, such as the pickup basketball game between John and Primo at the outset of the film. It is a pivotal moment in the development of their relationship. The scene unfolds as a sort of male rite of passage with the older and younger man developing a sparring match that becomes a test of manhood between the mentor Primo and his new charge, John. Part of the central theme of Five Star revolves around the meaning of manhood and the process of fostering same, which often translates as toughness. Miller and his crew capture the inner essence of Primo's life perfectly, eavesdropping on the tender interactions with his family in their bleak apartment and contrasting that with the twinkling lights of the cityscape view just outside his window. The nearby beach also plays a role in the film, as both a metaphor for
life's endless possibilities and a parallel setting for some of the grittier pivotal moments in the film, such as the place where John target practices an illegal semi-automatic, and where, in all probability, his father was murdered.
One of the few lighter moments in the film is the budding romance between John (John Diaz) and the girl-next-door beauty Jasmine (Jasmine Burgos). As much as the mother rails against the relationship, she grudgingly advises him on proper condom use, much to John's chagrin. The scenes of John courting Jasmine on the beach are magical and in such sharp contrast to the eventual consummation of their relationship on a mattress on the floor of her family's apartment, which is her bedroom. Wanda Nobles Colon displays considerable acting chops as John's Mom, and lights up the screen with her intensity. Her character offers the single best explanation of
the plot construct surrounding the mystery of her husband's death. Unfortunately the film fails to build upon that point. The character delineation and conflict between John and Primo somehow fall flat and gets lost in the amorphous ramblings of the core scenes of the film. According to the script, John's father was supposedly killed by a stray bullet, an explanation that neither the mother, nor her son, believes. John is determined to find the truth. Subconsciously he knows that it lies hidden somewhere beneath the emotional chain mail that surrounds his mentor, Primo. (That was the image gleaned from the maze of tattoos Primo wears on his arms and chest. They looked like the chain link armor worn by the knights of old for