Bolingbrook students get career lessons from business owners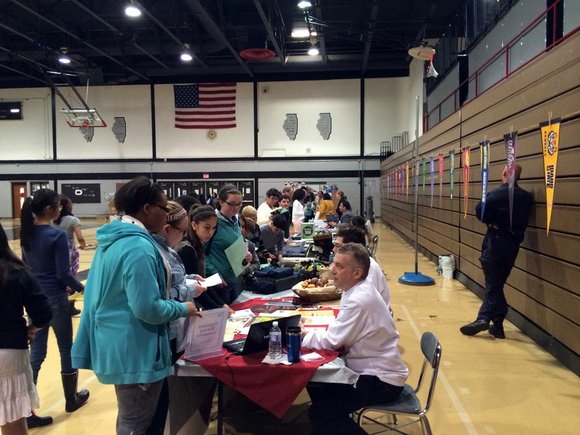 It's never too early to start thinking about a career.
That could be the motto for Brooks Middle School in Bolingbrook which held its annual College & Career fair on Thursday featuring 37 different careers with representatives from a variety of companies, organizations and institutions – from a local veterinarian hospital to the Bolingbrook police and fire departments, the University of St. Francis and Joliet Junior College. About 1,200 sixth, seventh and eighth grade students from the school participated in the fair throughout the day.
"The intention of the fair it to expose kids to different careers that they might not otherwise be exposed to and also relate their education to their future goals," said Danielle McDermott, the school's eighth grade counselor and organizer of the career fair.
Not all the careers represented at the fair require students to go to college and that's OK, according to McDermott, because college is "not necessarily for everyone."
Eighth-grader Asha Wilson said she was excited to see so many businesses and organizations represented at the fair and looked forward to visiting as many as possible.
"It's a great way to find out what you want to be," Wilson said. "You get to find out about the different careers, what you need to know and don't need to know and what you like and don't like."
Some of the companies and organizations were more popular with the students than others. For example, Intren, a utility construction company based in Union, in northwestern Illinois, brought an interactive display so students could experience first-hand part of what it's like to build overhead power lines for major utility companies such as ComEd.
Steve Arrigoni and Diamond Byas, linemen for the company, walked the students through disconnecting power lines using the special equipment. Emily Bock, a sixth-grader, was all smiles as she walked up and put on a hard hat and gave it a try.
Byas told the students that once they graduate high school they can go through a three-year paid training program to learn the job and then start working at an entry-level salary of $60,000.
Many students also stopped by to pet the two dogs on hand from the VCA Bolingbrook Animal Hospital. Both dogs had their legs bandaged to show the students an example of what dogs look like with a broken leg.
A number of girls also stopped by to chat with Shakila Stewart, a professional model, actress, dancer and director and CEO of Dreamah Studios, in Chicago. Stewart, who graduated from Romeoville High School in 2002 and is currently working on a production of "The Wiz," at a theatre in Chicago, encouraged seventh-graders Mikahla Dell, Joann Asare, Ajdoa Busia, Alyssa Williams, Zoria Peay and Asia Styles, to pursue their dreams no matter what and never let anyone tell them they aren't good enough.
Brooks Middle School Principal Keith Wood said Thursday's fair was probably the best attended by students than in the previous five years. It's a chance for area business owners to see what the school has to offer as well as a great opportunity for the students, he said.
"It's really an opportunity for us to try to expose them to a variety of careers and give them a chance to experience things that wouldn't normally experience on a regular basis," Wood said.
Rex Robinson can be reached at rex@thetimesweekly.com.