Will County 9-1-1 Board names Telecommunicator of the Year
4/28/2014, 9:20 a.m.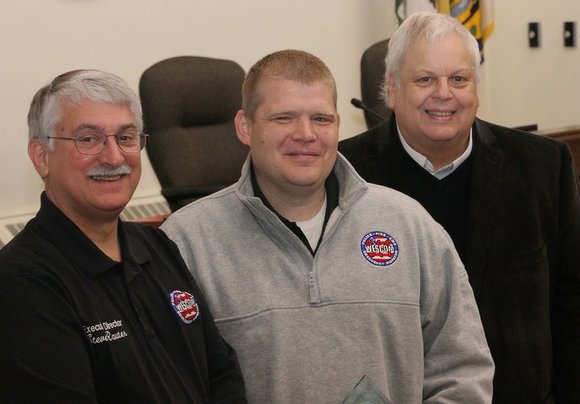 In conjunction with National Telecommunicators Week April 21-25, Will County telecommunicators were recognized last week for their service in their respective agencies by the Will County 9-1-1 Emergency Telephone System Board. According to Steve Figved, chief administrator of the Will County 9-1-1 Emergency Telephone System, the telecommunicators are sometimes the unsung heroes of emergency services.
"These telecommunicators have a great responsibility as the first contact in an emergency situation," Figved said. "These men and women have been trained to remain calm and obtain as much information as possible when someone calls 9-1-1 in an emergency. This can be a stressful job, often dealing with life and death situations, and it is important to recognize those individuals who continually provide superior service."
In addition, Jacob Gloodt was named Telecommunicator of the Year. Gloodt is a part-time telecommunicator with WESCOM Emergency Services and a full-time fire fighter with the Oak Park Fire Department. Figved said he was chosen for his calm and rational demeanor and his work in developing training programs for the telecommunicators. Gloodt has worked for WESCOM for five and a half years.
"I do have a different perspective from my experience as a fire fighter," Gloodt said. "I have used my background to develop training programs for the telecommunicators so they can learn to anticipate the information the emergency personnel will need. I am honored to be chosen for this award. I think this reflects highly on the huge support I receive from my co-workers and supervisor."
The Will County ETSB has 17 members comprised of representatives from the Will County Executive's Office, the Will County Board, the Will County Emergency Management Agency, each of the county's seven PSAP (public safety answering points), and police and fire departments in the county.