Lemon-Basil Chicken-Pasta Salad
4/29/2014, 9:46 p.m.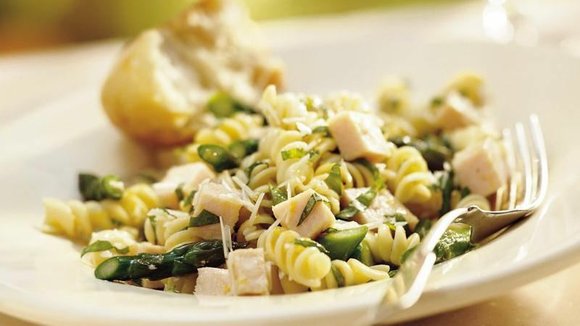 Servings 4
Ingredients
½ teaspoon salt (for cooking pasta), if desired
2 cups uncooked rotini or rotelle (spiral) pasta (6 oz)
10 asparagus stalks (about 8 oz)
1 clove garlic or 1/8 teaspoon garlic powder
5 oz cooked chicken or turkey
½ cup fresh basil leaves
½ cup shredded Parmesan cheese (2 oz)
¼ cup olive or vegetable oil
1 tablespoon grated lemon peel
Directions

Fill a 4-quart Dutch oven about half full of water. Add 1/2 teaspoon salt if desired. Cover with lid; heat over high heat until water is boiling rapidly. Add the pasta. Heat to boiling again. Boil uncovered 9 to 11 minutes, stirring frequently, until tender but not mushy. While water is heating and pasta is cooking, continue with recipe.
Break off and discard the tough ends of the asparagus stalks where they snap easily; wash asparagus. Cut asparagus into 1-inch pieces to measure 2 cups. Add asparagus to the pasta during the last 2 to 3 minutes of cooking.

Peel and finely chop the garlic. Cut the chicken into 1/2-inch cubes to measure about 2 cups. Tear the basil leaves lengthwise into narrow strips.
Place strainer or colander in the sink. Pour pasta and asparagus in the strainer to drain. Rinse with cold water; drain.

In a large glass or plastic bowl, toss pasta, asparagus and chicken. Stir in garlic, basil, cheese, oil and lemon peel. Cover with plastic wrap; refrigerate 1 to 2 hours or until chilled.