Retail jobs dominate area employment offerings
Experts encourage workers to pursue management opportunities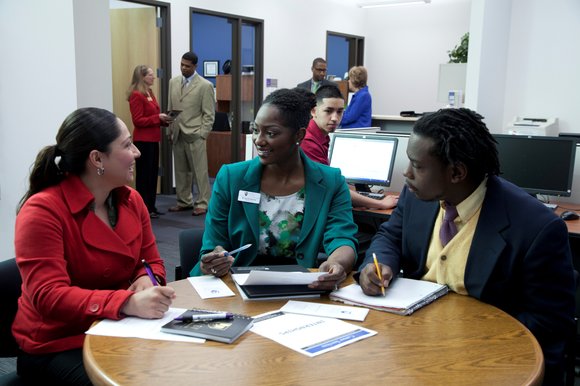 New fast-food restaurants, retail stores and strip mall developments are popping up all over Will County, a good sign that the economy is slowly rebuilding after five long recessionary years.
For residents, that's good news. The more property and sales tax money municipalities can collect from a growing commercial development base to fund services, including fire, police and public works, the more elected officials can keep a lid on residential property tax increases.
But there's a downside, too. Most of the employees who will work at these news businesses – new Potbelly restaurants in Joliet and New Lenox, a new TJ Maxx in Romeoville, a new Culver's in Lockport – will earn somewhere around minimum wage. Only managers will likely make enough to support themselves and a family.
And these new businesses will be competing with existing businesses that are already struggling to find hourly workers to man their cash registers and load their shelves.
It may explain that while there are new businesses opening, unemployment in the Joliet area is still at about 8 percent, according to the March numbers.
Unemployed workers can make more receiving state benefits than if they took job at McDonald's or Sears, according to Larry Hill, chairman of the Economics Department at Lewis University and an economics professor at Lewis for the past 46 years. New white- or blue-collar jobs that would provide enough to put food on the table and make the monthly mortgage payment are scarce.
"We have lost a significant amount of manufacturing jobs over the years and we have replaced those with service industry jobs," Hill said. "Over the past few months we've been losing construction jobs and manufacturing jobs and a pretty good clip."
There are some bright spots. Will County officials have done a good job of shifting from a predominately a manufacturing-based economy to one that's transportation-based, Hill said. County and municipal officials should be acknowledged for bringing in warehouses and other transportation-based companies by using tax incentives, such as enterprise zones and special Tax Increment Financing districts, as lures.
"They've done a terrific job of aggressively bringing in many of the jobs we have now," Hill said.
Transportation and warehouse industries are among the top categories for employment now in Will County. Manufacturing is starting to pick up in various communities within the county. Meaden Precision Machined Products, for example, is building a new plant of more than 60,000 square feet in Lockport's Prime Business Park. The company will be moving from Burr Ridge and bringing about 80 employees to the new plant, according to Lockport City Administrator Ben Benson.
While the Obama administration and others groups are making a push for a substantial increase in the minimum wage, which would make jobs in the service industry more appealing, there's no guarantee that will come to fruition.
But that's not to say there's no light at the end of the tunnel, according to Wayne Gawlik, a business professor at Joliet Junior College and a lifelong Joliet resident. It's true that a family cannot survive when the head of the household is only making minimum wage, he said. But that doesn't mean that workers have to remain in minimum wage positions, he said.
Gawlik said workers who take those entry-level positions with retailers can move up into management positions if they take the initiative and find out from their supervisors what they need to do to advance within the company.
JJC, Lewis University and the University of St. Francis all offer a variety of programs to assist workers who need further training for new positions.
"Success is where preparedness meets opportunity," Gawlik said. "Continue your education so you don't have to stay in that entry level job. There are lots of well paid positions in management. It's not a matter of getting hired. It's a matter of getting promoted."
Sometimes companies offer in-house management training programs. If they don't, there are various classes offered for retail management at JJC and other colleges and universities, according to Gawlik.
Rex Robinson can be reached at rex@thetimesweekly.com.