Academic growth trends, new culture "exciting" for one school
8/6/2014, 6:19 p.m.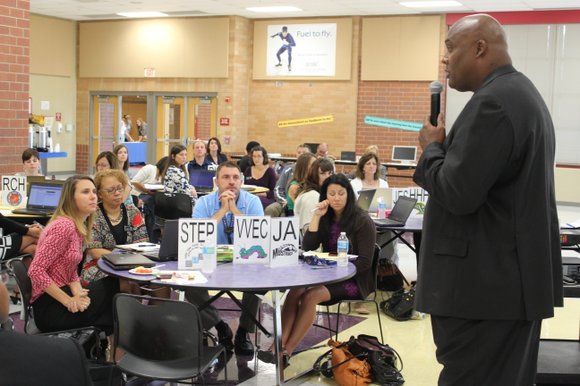 Valley View School District 365U Superintendent Dr. James Mitchem is "very excited" about the coming school year.
"The academic growth our children are making makes this a very exciting time," Dr. Mitchem told school and district administrators at this week's Back-To-School Administrative Workshop. "We're seeing trends in our data that suggest we're on the right path."
But, the VVSD Superintendent said, it will take a significant collaborative effort involving mutual respect on behalf of teachers, administrators, parents and the community to keep the momentum rolling in the right direction.
"As we all know, systemic change takes five to seven years," Dr. Mitchem said. "We're starting year four and I feel like we're ahead of where I thought we would be."
VVSD's leader spoke of a culture of visible learning where everyone is a learner exchanging ideas and talking about what works and what doesn't. "Our role is to serve," he told administrators. "We've created a culture that relinquishes that top-down type of administration. Senior leadership has become more supportive of administrators. Administrators are more supportive of teachers. And teachers have become more supportive of the students. As a result students are growing and achieving."
Dr. Mitchem and Assistant Superintendent Rachel Kinder encouraged the administrators to utilize what Kinder termed a "foundation of learning" by utilizing tools that have already been put in place as they continue to seek ways to help every child learn.
"We've now firmly established our vision. We have set expectations. We have provided the tools. We have provided the resources," Kinder said. "Now it's time to go deeper and move forward with a deliberate focus on creating visible learners."
"The VVSD community holds high expectations for us," Dr. Mitchem said.
"We need to make sure everything we do has a positive effect on our kids."