Pace adding more parking for Romeoville bus commuters
8/7/2014, 9:13 p.m.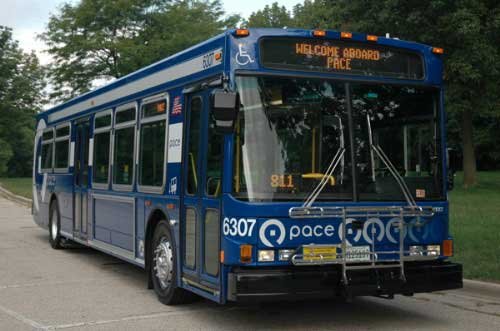 Faster service to the city. And more commuter parking spaces in the 'burbs.
Beth Gonzalez, the Pace bus representative for Will County, outlined a relief plan sure to resonate with weary riders during Wednesday night's meeting of the Romeoville Village Board.
Because of increased demand, she said Pace is making changes that will affect Romeoville bus riders beginning Aug. 18—and in a positive manner. First, temporary parking spaces at the library and R.C. Hill Elementary School are being abandoned in favor of a new permanent lot at White Fence Farm restaurant. She said the lot will have room for 100 cars—more than double the number of spaces allotted now.
Second, Gonzalez said the village will build a sidewalk to connect the back of the White Fence Farm lot with Pace's new bus stop at Bluff Road. And, third, she said Pace's new Park-n-Ride plan will call for buses to start at Old Chicago Road in Bolingbrook, stop once at Bluff Road in Romeoville and then head into the city, providing faster, more reliable service.
And there will be less confusion, too.
"The route numbers are changing," Gonzalez said. "So, the Romeoville route number is now going to be Route 851. There are going to be four different numbers on the routes, so that people downtown know exactly which route to take and where it's going to take them.
"Right now, it's every other run of 755 and we're stopping here and we're stopping there. So, this is going to save confusion for the passengers. The Romeoville route currently stops in Plainfield. That's where it originates. Then, it comes to Romeoville. Because of staying on I-55, sometimes passengers are waiting for that bus.
"With the changes—the passengers expressed their concerns and Pace listened to them—that bus is going to start at Old Chicago, go to White Fence Farm and off. That's it. So their on-time performance is going to improve. The time on the bus is going to be shorter. Overall, it's a good thing for everybody."
Also, Gonzalez said Gov. Pat Quinn is expected to sign legislation Monday that will extend Pace bus shoulder riding privileges from I-294 past Kedzie to the Dan Ryan Expressway.
"Huge improvement," Gonzalez said. "That area—it's a bottleneck down that way. And it will definitely help with our on-time performance."
She said Pace has launched a community outreach program and is posting signs in Romeoville to make riders aware of the upcoming changes. And an even larger push is in the works for the days leading up to the changeover to the White Fence Farm parking lot and Bluff Road bus stop.
"We're glad Pace could work with us to come up with this solution that meets the needs of residents and the demands that they have right now, and that we've been able to work with them," Mayor John Noak said. "And we'll continue to look at ways to better improve services in the future. It will be an ongoing dialogue for many years, I'm sure.
"But everything is starting to move. Hopefully, next year we'll start to see the beginnings of the construction on a Metra station. And we can talk about those things and how we can make them work for us."