Slammers give up second game to Evansville
8/9/2014, 10:23 a.m.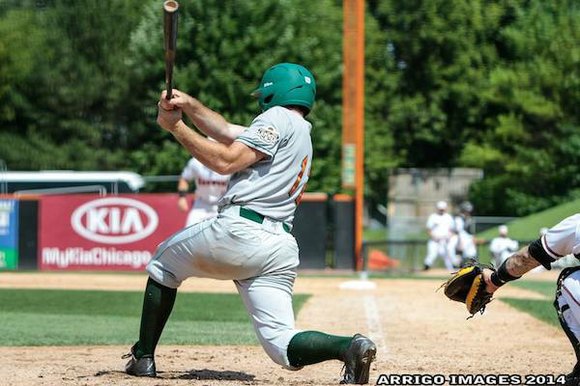 The Joliet Slammers provided this account of Friday night's game:
The Joliet Slammers-Presented by ATI Physical Therapy-lost to the Evansville Otters 6-4 on Friday night.
Kody McFarland got off to a great start for the Slammers by striking out the side in the first inning. Joliet then took the lead in the top of the 2nd on a RBI grounder from Adam Lewis.
Then McFarland surprisingly ran into big trouble in the bottom of the 2nd. He gave up a leadoff homer to Jeremy Nowak and eventually 2 more runs would score on wild pitches and McFarland was lifted before the inning ended and the Slammers trailed 4-1. McFarland also walked two and hit a man before he was taken out after mysteriously losing his command. Matt Costello came on in relief and helped give time for the Joliet offense to get back in the game.
Russell Moldenhauer singled in a run in the 3rd and he did it again in the 5th. Chris Epps added an RBI single in the 6th. Nowak homered for the 2nd time of the contest and the score was 5-4 into the 7th inning.
In the bottom of the 7th, Shayne Houck hit his 19th homer of the season and it became 6-4. That set a Evansville Otters franchise record for home runs in a season. Jordan Wellander then came on for the Slammers but Costello was great in his 5 innings of relief, just allowing those 2 solo homers.
The Otters take the series two-games-to-one. Moldenhauer finished with three hits, two RBI and was on base four times, as he was hit by a pitch. Grant DeBruin had two hits and goes to a league-leading total of 101 hits now.
The Slammers return on Saturday at 6:05pm to start a six-game home stand. There will be a classic Slammers Bobblehead give-away on Saturday to the first 1,000 fans. Sunday's 1:05 pm start with be a Family Sunday where kids 12-and-under eat free and have the opportunity to run the bases after the game and get autographs from all the players.