Plainfield Cemetery to expand, Wounded Warrior capped
Brock A. Stein | 8/12/2014, 8:58 a.m.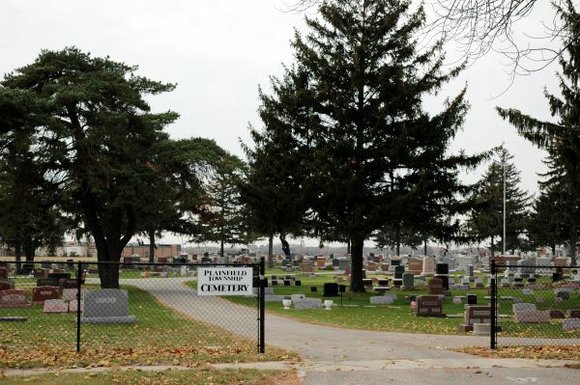 Under a rezoning plan approved by the Plainfield Village Board Monday, Plainfield Township Cemetery will annex just over 1.5 acres of nearby land.
The 1.68-acre parcel sits adjacent to the cemetery near the southeast corner of the property at U.S. 30 and Robert Avenue.
Trustees also approved an amendment to rezone the property from B-3 (business highway commercial) to an R-1 low density residential special use.
Village documents indicate the land has limited commercial uses because of its location near the Will County Forest Preserve District's Lake Renwook Heron Rookery on U.S. 30.
Documents show the cemetery is in need of more land to expand and "provides for a logical expansion opportunity."
The land is surrounded by a town home development to the east, the rookery to the north, and a residential neighborhood to the west.
In other business, the success of the Wounded Warrior 5K run in May this year has forced organizers to cap the number of runners at 1,200 for the event in 2015.
Since it was first organized, the run has more than tripled in size, going from 400 runners in 2011 to 1,300 in 2014.
Plainfield Police Chief John Konopek said that based on the growing numbers, organizers and village officials felt they had to cap the number of runners.
"I think 1,200 is what we can handle," said Konopek.
Konopek said each runner typically bringss about two to three spectators to the race. That means the event attracted about 4,000 people this year, he said. Those numbers limited parking space as well as space for runners to start the race.
Organizer Jim Morsovillo said that plans for the 2015 race include better signage for runners and increased shuttle service to get runners and spectators to and from remote parking. He also said some adjustments will be made to the race course to minimize crowding at the start of the race.
"Our main concern is safety," Morsovillo said.
Trustee Jim Racich said that the event showcases the cooperation between event organizers and village departments to help wounded veterans.
Trustee Dan Rippy agreed, saying, "Having too much success is not a bad problem to have."
Contact Brock A. Stein at Brocknewstips@gmail.com and follow him on Twitter at @BrockAStein.