Community Health Week
8/13/2014, 2:52 p.m.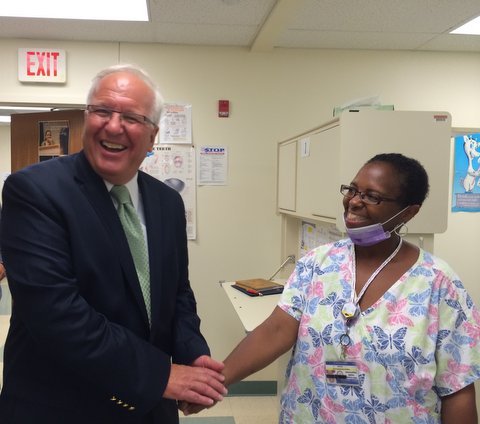 For more than a decade, the second week of August has been designated as National Community Health Center Week. This annual celebration helps to create community awareness, while highlighting the numerous services and positive health outcomes made possible by more than 9,000 community health centers across the United States.
The Will County Community Health Center (1106 Neal Avenue in Joliet), has been providing affordable, high-quality health care to medically vulnerable and underserved area residents since 1996. Nearly 100 dedicated employees provide primary medical and dental services six days weekly. Appointments and walk-ins are accepted.
The Community Health Center accepts Medicaid, Medicare, private insurance, some HMOs and PPOs. Patients without insurance are on a sliding fee scale. MasterCard and Visa can be used.
Illinois State Senator Pat McGuire, D-Joliet, helped get Community Health Center Week off to a rousing start when he toured the Will County Community Health Center and Dental Clinic facility Monday, Aug. 11. Senator McGuire chatted with staff and patients, and then got a quick look at the entire 33,000-square-foot facility before turning his attention to the Health Center's mobile dental facility. Will County's mobile dental unit has been providing dental services to area residents who are unable to visit the 1106 Neal Avenue complex since 2011.
The Community Health Center totaled more than 46,500 patient encounters during 2013, including 5,310 dental encounters. For more information about the Will County Community Health Center, visit the Health Center pages at www.willcountyhealth.org, or telephone 815-727-8670.
Community health centers helped 23 million Americans save an estimated $24 billion in health care costs during 2013. To learn more about the vision and accomplishments of community health centers, visit www.nachc.org.