Broadway in Chicago free summer concert this Monday
8/15/2014, 11:42 a.m.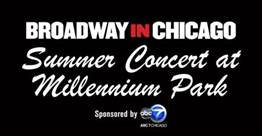 Broadway in Chicago issued this news release:
BROADWAY IN CHICAGO'S FREE 2014 SUMMER CONCERT
CALLED A "RITE OF SUMMER" BY HEDY WEISS (CHICAGO SUN-TIMES)
FEATURES OVER A DOZEN SHOWS AT
JAY PRITZKER PAVILION AT MILLENNIUM PARK
Monday, August 18 at 6:15 PM
WHO: Cast members from the Pre-Broadway World Premiere of AMAZING GRACE, the World Premiere of DEE SNIDER'S ROCK & ROLL CHRISTMAS TALE, the World Premiere of Emerald City Theatre's HANSEL & GRETEL, the Pre-Broadway World Premiere of THE FIRST WIVES CLUB, and hit shows ANNIE, DISNEY'S NEWSIES, EVIL DEAD – THE MUSICAL, RODGERS + HAMMERSTEIN'S CINDERELLA, JERSEY BOYS, KINKY BOOTS, PIPPIN, NETworks presents DISNEY'S BEAUTY AND THE BEAST, THE ILLUSIONISTS and MILLION DOLLAR QUARTET
WHAT: Invite cameras to film the Broadway In Chicago Summer Concert performances
WHEN: Monday, August 18 at 6:15 PM
Cameras should arrive by 6:00 PM. All cameras must be self-contained. No flash photography or lights.
WHERE: Jay Pritzker Pavilion at Millennium Park (201 E Randolph St)
ADDITIONAL INFORMATION
Hosted by ABC 7 Chicago's Janet Davies, from the entertainment and lifestyle program 190 NORTH, the concert will feature cast members from over a dozen shows. The Broadway In Chicago Summer Concert at Millennium Park is produced in partnership with the City of Chicago Department of Cultural Affairs & Special Events.
Presented in collaboration with the Department of Cultural Affairs and Special Events as part of Millennium Park Presents. Millennium Park proudly presents symphonic music, dance, opera, Broadway hits and more, performed by some of Chicago's best-loved cultural institutions. For full calendar information, visit millenniumpark.org. For exciting facts about the Park, program updates and weather cancellations, follow us on Twitter @Millennium_Park and like us on Facebook.
For more information on the Summer Concert or any Broadway In Chicago shows visit www.BroadwayInChicago.com.